Balancing Machines and Systems Information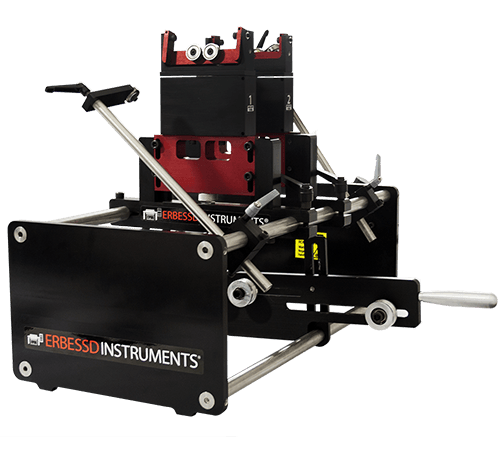 Balancing machines and systems dynamically measure and/or correct machine or component balance (load balancing). Dynamic balancing distributes the weight (mass) of a rotating body evenly around the axis of rotation, reducing vibration, improving performance and accuracy, and reducing wear. Driveshaft balancing is an important part of noise, vibration, and harshness (NVH) analysis in vehicles. A portable balancing machine can save time and money by allowing engine balancing in the field. An automatic balancing system can record vibration data, calculate a balance solution, and determine the specific rebalancing steps, after only one engine run. The system displays a diagram of the engine balance flange, and shows the sizes, part numbers, and hole locations of weights to be installed. Balancing machines and systems measure the amount of unbalance and its angular position in selected correction planes.
Types
There are three basic types of balancing machines and systems:
static balancing stands
hard bearing balancing machines
soft bearing balancing machines with flexible work supports, high sensitivity, and simple electronics
Specifications
Specifications for balancing machines and systems include horizontal versus vertical, single-plane versus two-plane, belt-drive, end-drive, or combination drive. Balancing machines and systems that have high sensitivity (< 0.1 mg mm or < 0.14 micro-ounce in.) can be used for small high-speed rotors, gyroscopes, and similar applications over 1,000 rpm and up to 200,000 rpm. Tunable filters and digital analyzers are the two main types of field balancing equipment. Characteristics of a portable balancing machine include:
one run balancing
maximum number of machines that can be recorded
detection at more than 10 cm distance
infrared (IR) phase detection
dark or light detection
Applications
Balancing machines and systems differ in terms of applications and approvals. Some products are designed for aerospace, automotive, fluid power, or general industrial applications. Others are suitable for impellers, fans, and props; machine tools and tool holders; segmented devices such as armatures and crankshafts; or components and systems such as transmissions, drivelines, electric motors, and alternators.
Standards
In terms of approvals, balancing machines and systems may comply with specifications from the International Standards Organization (ISO), such as ISO 2953, which covers mechanical vibration for balancing machines. The Society of Manufacturing Engineers (SME) also maintains a standard, SME MS00-230, for single-plane, active balancing machines and systems.
Image credit:
Erbessd Reliability Instruments