Material Handling Carts and Trucks Information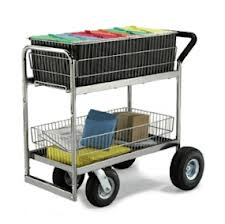 Material handling carts and trucks is a generic term to represent a wide variety of wheeled devices whose main purpose is to transport freight, supplies, or other cumbersome materials within a facility and its premises. While the cart may be motorized it is not legal for on-road use, and may also require a finished surface (asphalt, laminate, etc.) for transit. They may also be referred to as pushcarts, trolleys, wagons, or drays; this does not include forklifts, tugs or tractors.
Operation
Locomotion
Locomotion is provided by either the physical input of the operator or by a mechanized powertrain.
| | |
| --- | --- |
| Physical: the cart is equipped with a push bar or other interface that allows the operator (or rarely, draft animals) to push/pull the cart and its burden. These types are more common than its motorized counterpart due to its lower cost, improved agility, and general utility. A braking mechanism may be incorporated, as well as other features. | Image credit: Best B2B |
| Mechanized: an electric or combustion motor powers a drivetrain that delivers propulsion and exceeds the hauling capability of physically-propelled models. Trucks that utilize petrol or gas engines are only for outdoor or loading dock use due to their emissions, while electric varieties are more useful indoors. These carts will have a steering mechanism, brake and throttle, but are less agile than push/pull carts and require occasional maintenance. | Image credit: ECVV |
Means of locomotion indeterminate, wheels are a necessary component for a cart or truck's transportation. Wheels not connected to a drivetrain may be swivel-fork mounted, and mechanized wheels are almost always axle mounted. Carts typically have four wheels, and trucks may have two or four. Varieties include:
| | | |
| --- | --- | --- |
| Pneumatic — Rubber | An air-filler bladder provides load cushioning, shock absorption, and good traction. | Image credit: Northern Tool |
| Solid/Filled — Rubber | These tires do not puncture and require less maintenance than pneumatic varieties, but at the expense of cushioning and shock absorption. They provide quality traction. | Image credit: Northern Tool |
| Casters | Solid wheels typically made of urethane, plastic, or metal are best used on flat, level surfaces. Casters offer moderate traction, but no cushioning or shock absorption. They are more common in non-motorized carts and trucks. | Image credit: Material Handling Products |
| Track wheels | Rarely, wheels or tires may have a floor-based guidance system, essentially removing the need for a steering mechanism. | Image credit: LK Goodwin |
Composition
Manufacturers determine the most-suitable material and durable, structured items of freight (such as drums and crates) often require a similarly robust material to handle the burden. As such, metals such as aluminum and steel are frequently used, as well as finished wood products. For items requiring more sensitive handling or cradling (mail, laundry, refuse), materials such as fabric, wire, and plastic may be more suitable; these constituents are often used in conjunction with a limited amount of metal or wood.
Features
A large variety of integrated features may best serve a cart or truck's functionality, depending upon the application. Some of the more notable features include:
Shelving: Layered shelving units may be adjusted or removed to alter a cart's carrying capacity. Tilting shelves will allow easy access and unloading.
Lift: A scissor or piston mechanism allows the load to be height adjusted.
Dumping: The cart has either a platform that can be inclined to discard its contents, or can be safely upended to the same effect.
Brake: A brake can be used to slow and stop a cart, and in carts with a large mass or a need for secure positioning it is a necessity.
Collapsible: Carts or trucks that can be folded or disassembled represent minimal storage requirements when the cart is not in use.
Narrow: Carts that have small widths are meant to increase mobility when confronted with constrained physical dimensions.
Nesting: A space saving design for carts that interlock or conjoin.
Security: An integrated lock and metal encasing can provide content protecting from theft and, in some instances, fire.
Spring lift: The cart's carriage is supported by a spring to maintain a height while under load.
Riding board: Exclusive to mechanized carts, a small platform or seat is provided so an operator can travel at the same speed as the cart and provide steering, throttle, and braking input.
Types
A limited cross-section of commercially available industrial carts and trucks is as follows:
| | | |
| --- | --- | --- |
| Cabinet | Cabinet carts have compartments with doors and/or drawers for material transport and storage. | Image credit: Northern Tool |
| Container | Containers or utility carts are round or rectangular and have wheels. They are used for general-purpose applications or bulk material transport | Image credit: Grainger |
| Drum | Drum carts or trucks are designed for lifting and moving drums. | Image credits: Essex Drum Handling |
| Hand | Hand trucks or appliance trucks are wheeled carts or trucks for moving equipment by hand. Typically, the load platform is low to the ground for ease in loading and unloading. | Image credit: Harbor Freight |
| Instrument | Instrument carts are designed for the transport of sensitive or delicate equipment. They may include features such as shock absorbers or pneumatic wheels. | Image credit: Tek |
| Janitorial | Janitorial or cleaning carts are designed to transport cleaning supplies such as pails and mops | Image credit: Rubbermade |
| Linen | Linen and laundry carts are designed to transport linens and laundry in settings such as hotels and restaurants | Image credit: TQ Industries |
| Office | Office carts or mail carts contain shelves or racks for the transport of office materials such as mail and files. | Image credit: Charnstrom |
| Pallet | See pallet jacks. | Image credit: MHW Magazine |
| Panel | Panel or board carts are used to transport large panels such as sheets of plywood. Frequently, boards and panels are loaded and transported on edge. | Image credit: Vestil Mfg. |
| Platform | Platform carts or trucks have a low platform or deck and handles for positioning and transportation. | Image credit: BPG Home |
| Pipe | Pipe and bar trucks typically use a low platform with cradle geometry to prevent material from rolling off. | Image credit: Beacon Tech. |
| Shelf | Shelf, tray and stock carts have a wide variety of applications. Examples include material transport, warehouse stock transfer, and tool or equipment transport. | Image credit: Nationwide Industrial Supply |
| Stockpicker | Stockpickers and ladder carts are designed for stocking and warehouse applications. They often have shelves and an integral stepladder. | Image credit: HOF Equipment |
| Tilting | Tilting and dumping carts are designed to be tilted and dumped with relative ease. Typically, they have two wheels and a sloped front for ease in unloading. | Image credit: Sears Roebuck |
| Tracked | Tracked cars are carts used within tracked mining or heavy duty industrial applications. | Image credit: 4 Rail |
| Waste | Waste or recycling carts are wheeled containers for the removal of waste, recyclable materials, or trash. | Image credit: Jim Lims Tools |
Resources
Nationwide Industrial Supply - Carts
Images credit: Charnstrom Co.