Polycarbonate Resins Information
Polycarbonate (PC) is an amorphous material with excellent impact strength, clarity, and optical properties. It can be molded to tight tolerances but may be attacked by solvents and petrochemicals.
Polycarbonates are so named due to the fact that they are defined as polymers comprised of carbonate groups. PC resins are sometimes known by their trademarked names Lexan® (SABIC), Makroclear® (Arla Plast), and Makrolon® (Bayer).
Applications
Polycarbonates are primarily employed in the following industries:
Electronics: electrical insulation, capacitor dielectric material, optical discs.

Construction: molded glazing, lighting fixtures.

Aerospace and defense: bullet-resistant materials, low-stress parts, cockpits and canopies.
Other PC applications include eye protection, display screens, food and beverage packaging, and durable, lightweight molded plastics.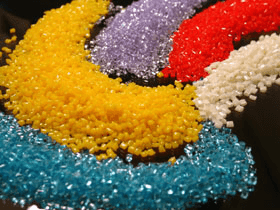 Standards
ASTM F997 - This specification covers polycarbonate resin and provides requirements and associated test methods for this thermoplastic when it is to be used in the manufacture of medical devices or components of medical devices.
Image credits: