LED Lamps Information
Image Credit: StellarNet, Inc. | AUtomationdirect.com | D & N Electronics
LED lamps are electric lights that use one or more arrays of light-emitting diodes (LEDs) as the source of light. LED lamps use an LED driver, a device similar to the ballast for a gas discharge lamp, to regulate the voltage and current powering the LED. Because LED packages and arrays are not standardized, the LED driver must be matched to the specific LED lamp. For any one LED, the color can be ultraviolet (UV), near-ultraviolet, visible or infrared (IR). To provide sufficient light for illumination, an LED lamp bulb uses an LED array.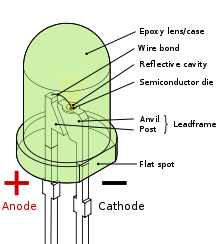 Image Credit: wikipedia
An LED lamp manufacturer may specify individually packaged, chip-on-board LEDs, and lensed LEDs such as standard T-packs and surface mount devices. Because they are solid-state devices requiring little power and generating little heat, LED lamps have long operating lifetimes. LED lamps also provide high resistance to vibration and impact, can operate in very cold environments, produce no infrared radiation, and have no mercury content. LED lighting can save maintenance costs for hard-to-reach applications. In some cases, an LED flood lamp is a good alternative to incandescent or halogen lamps. A custom LED lamp can meet specific requirements such as selected or aged LEDs. An LED lamp with an Edison base and a built-in driver can replace an existing incandescent or compact fluorescent lamp.
Standards
LED lamps have many different certifications and approvals. For example, products that bear the UL Mark meet published standards for safety from Underwriters Laboratory (UL). However, because the technology for LED lighting (also called solid-state lighting) is relatively new and developing rapidly, there are few published technical standards that apply specifically to LED lamps.
The National Electrical Manufacturers Association (NEMA) maintains a Solid State Lighting Section.

The Next Generation Lighting Industry Alliance (NGLIA) fosters government-industry partnership to accelerate the development and commercialization of solid-state lighting systems. The Alliance also works with the U.S. Department of Energy's Solid State Lighting program.

The Illuminating Engineering Society of North America (IESNA) publishes a Technical Memorandum on Light Emitting Diode (LED) Sources and Systems (TM-16-05).

The Alliance for Solid-State Illumination Systems and Technologies (ASSIST) has published guidelines that define the life of LEDs (the first in a series).
Additional standards for LED Lamps can be found at the IHS Standards Store.