From
Optical Shop Testing
2.8.3. Phase Conjugating Interferometer

Phase conjugating mirrors are very useful tools in interferometry. They eliminate the
need for a perfect reference wavefront. A Twyman–Green interferometer as shown in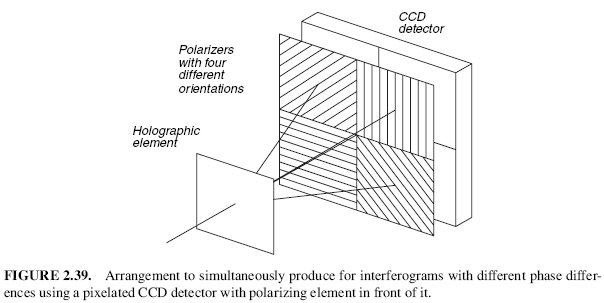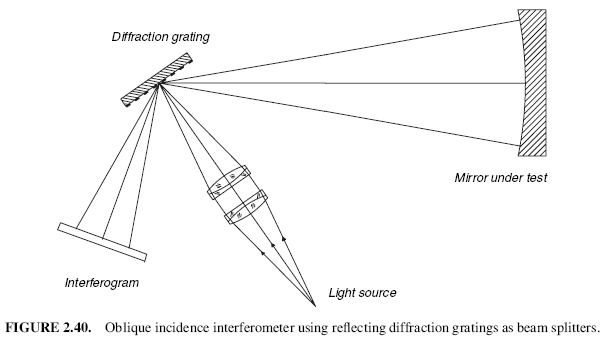 Figure 2.41, using a phase conjugating mirror has been described by Feinberg (1983)
and Howes (1986a, 1986b). The phase conjugating mirror is formed by a BaTiO3
crystal, with the C axis parallel to one of its edges and inclined 20o with respect to a
plane perpendicular to the optical axis. The phase conjugation is obtained by four
wave mixing. These pumping beams are automatically self-generated from a 30-mW
argon laser (λ = 514.5 nm) incident beam by internal reflection at the crystal faces.
Thus, it is a self-pumped phase conjugating mirror.

The property of this self-conjugating mirror is that the wavefront incident to the
mirror is reflected back along the same ray directions that the incident wavefront has.
Thus, the wavefront deformations change sign. Since the returning rays have the
same directions as the incident rays, the quality of the focusing lens is not important.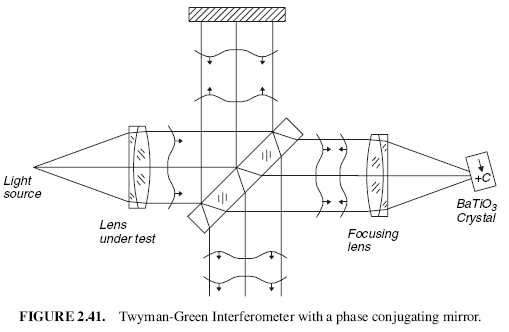 However, the quality of the light source collimator is important. Any wavefront
distortions produced by this collimator will appear in the final interferogram, but
duplicated. In other words, the wavefront is not tested against a flat reference but
against another wavefront with deformations opposite in sign.

Then the lens under test is the collimator and the sensitivity is the same as that in
the common Twyman–Green interferometer, but with only a single pass through the
lens. The advantage is that no perfect lenses are necessary. The disadvantage is that
an argon laser is required.

© 2007
---
Products & Services
---
Topics of Interest