Clean Room Air Conditioning (Cleanroom Systems)
Featured Product from Air Innovations, Inc.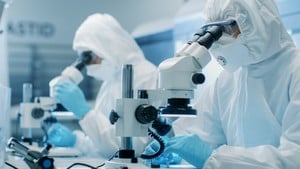 Air Innovations features an entire division dedicated to the design and manufacture of unitary and custom HVAC systems for cleanrooms and critical environments. In fact, our products are the only fully integrated modular environmental systems specifically created for the cleanroom industry. As with all Air Innovations environmental control systems - our clean room air conditioning systems can be tailored to your exact specifications in size, features and functionality. Contact us today.
Our Clean Room Air Conditioning Systems Accomplish the Following:
Eliminate open drive or belt-driven parts that could other otherwise produce particles and contaminate the air stream
Ensure the use of non-out-gassing sealants
Incorporate high static blowers to overcome HEPA filter losses
Create smaller footprints to save valuable floor space
Provide the ability to dehumidify environment
Precisely control temperature and humidity