IsolationAir® Hospital Contamination Control
Featured Product from Air Innovations, Inc.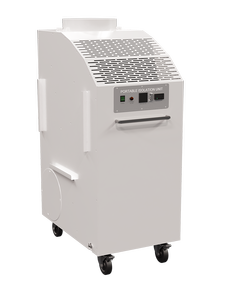 The IsolationAir® System helps meet medical surge benchmarks from the office of the assistant secretary for preparedness and response:
Helps hospitals meet or address these critical benchmarks and Capability 4. Medical Surge, Objective 2:
Activity #9 Enhance Infectious Disease Preparedness & Surge Response
Activity #6 Provide Burn Care during a Medical Surge Response
Activity #1 Develop Emergency Department and Inpatient Medical Surge Capacity and Capability
[Ensure Immediate Bed Availability by rapidly… using non-traditional spaces; Critical Care: rapidly expand capacity by adapting… areas for critical care]
View the IsolationAir infographic here.
The IsolationAir System also meets the guidelines for the following organizations:
CDC guidelines for infectious disease control in health care facilities
Minimum of 12 air changes per hour via HEPA filters
Use portable units as needed to augment ACH – recirculating room air
Maintains minimum pressure differential of 0.01" (+ or – depending on the application)
Maintains dehumidification controls
Maintains backup ventilation – can be portable units – for emergency provision
Ultraviolet light can be used for supplemental control
AIA guidelines for design and construction of hospitals, incl. heating and cooling control to 75 °F
ASHRAE – Chapter 7 in Applications Handbook regarding health care facilities
In addition, the system performs the following critical functions:
Removes airborne particles with HEPA filtration
UV light is used to sterilize airborne viruses and bacteria on the HEPA
Either negative or positive pressure control (negative for quarantine)
Isolates the room from the central system using temperature control
Learn more about isolation spaces and sterility.