Vibratory Feed Systems
Featured Product from SPIROL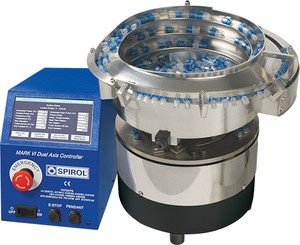 SPIROL® Series 2000 Vibratory Feed Systems
The leading edge of radial drive technology.
Electronically adjustable, dual axis Vibratory Feed Systems featuring the patented SPIROL Series 2000 Drive System — tuned electronically, rather than by re-springing, making set up and changeover for multiple bowls on one drive a snap! Available drive sizes are 12", 18" and 24".
The SPIROL Series 2000 is a time-tested, proven, reliable feeding concept, unlike anything else on the market. Conventional vibratory feeding technology has limitations, notably in part velocity, the type and material of parts being fed, and the noise level generated by the feeding process.
The SPIROL dual axis system overcomes these obstacles, opening the door to a broad spectrum of parts previously not considered possible to feed.
Series 2000 Mark VI Controller
In addition to the independent horizontal, vertical and phase controls, the Mark VI increases the capability, reliability, and operator accessibility of the system by incorporating the following:
Amplitude compensation so that the level of parts in the feed bowl does not affect the feed rate.
Sealed keypad controls with LED readout to give the operator a precise indication of the current system setting.
Microprocessor controlled for reliability and to facilitate future enhancements without redesigning circuitry.
Diagnostic functions and readouts of key operating characteristics.
RS-232 port for remote control through an interface with the customer's master control system. All major operating parameters may be monitored and/or adjusted via this port including power level, phase, direction, run/stop mode and faults. This is particularly useful in clean room applications where unnecessary entry into the clean room must be avoided.
This controller continues to set the Series 2000 Feed Systems apart from conventional feeders and positions SPIROL at the forefront of feeding technology.
The Mark VI Controller is a state-of-the-art, microprocessor-based controller for use with SPIROL Series 2000 High Performance Feed Systems. The controller optimizes feeding by constantly driving at the natural frequency of the system while also automatically adjusting output power to maintain a constant vibration amplitude.