Hookup Wires Information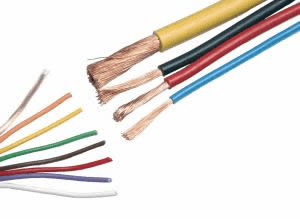 Hookup wires are used in low current, low voltage applications within enclosed electronic equipment. They are also used in control panels, meters, computers, business machines, and appliances.
When selecting hookup wires, buyers should consider specifications about the product's conductors, insulation and rated voltage.
Conductors
A cable conductor consists of a wire or combination of wires that are not insulated from each other, and facilitate the passage of electric current through the cable. Conductor-related specifications include material and size.
Conductor material includes various uses of copper. Copper is the most widely used conductor material, and features excellent corrosion resistance and high thermal conductivity, but relatively low strength-to-weight ratio. Cable conductors may also be made of steel and clad with a copper shell.
Conductor size is measured in American Wire Gauge (AWG) in the United States. The higher the gauge number, the smaller the diameter and thinner the wire. Thicker wires have less resistance and are able to carry more current. Outside of the U.S., conductors are measured in mm2.
Stranded conductors consist of one or more groups of wires twisted together. Stranded wires are more flexible than solid ones.
Jacket and Insulation Material
Suppliers manufacture wires using a variety of jacket and insulation material in order to reduce the leakage of current from the conductor. The wire's application is an important consideration when selecting insulation material.
Ethylene Propylene Diene Elastomer (EPDM) provides excellent flexibility over a wide temperature range.

Neoprene is a synthetic rubber well-suited to chemical applications. It is resistant to oil, flames, and chemicals.

Silicon rubber provides superior flexibility but lacks toughness and fluid resistance.

Thermoplastic is an excellent insulating material. Polyethylene (PE), polypropylene, polyvinyl chloride (PVC), Teflon®, and Tefzel® are types of thermoplastic material. While each material has its own unique advantages and disadvantages, most are highly flexible and provide resistance to moisture or chemicals.
Rated Voltage
Rated voltage is an important specification to consider when selecting hookup wires. A wire's rated voltage affects other aspects of its design, such as the type and thickness of its insulation. Most wires designed for high voltage applications use thicker thermoplastic insulation, which has generally replaced the older oil and paper insulation used before 1960.
When discussing electric power, applications using < 1 kV are considered low voltage, 1-36 kV are medium voltage, and > 36 kV are high voltage. Most hookup wires are used in low voltage applications.
References
Image credit
Tevelec