Leveling Feet, Pads, and Glides Information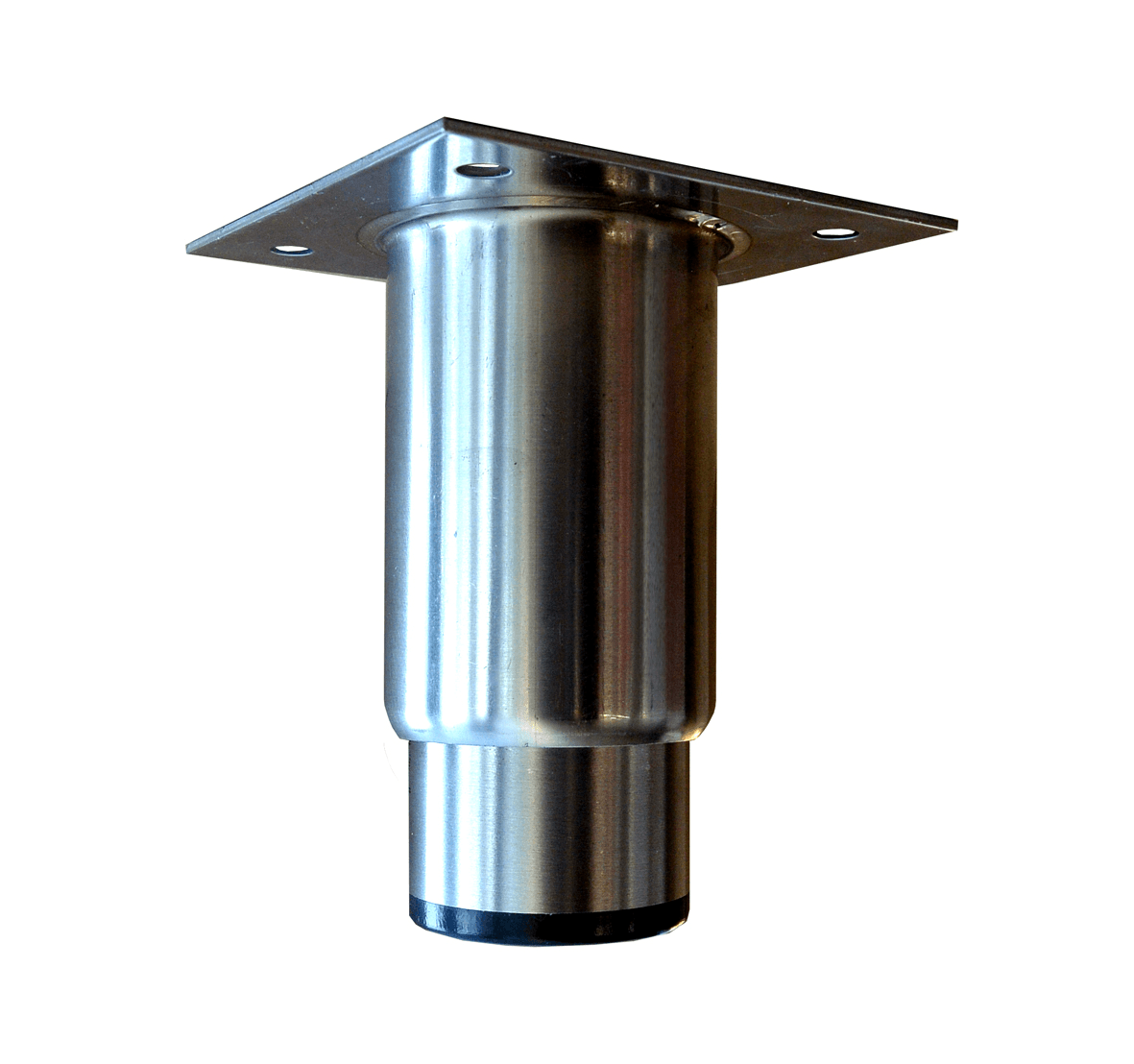 Leveling feet, pads, and glides consist of discs of varying shapes and sizes. They are used for leveling jigs, fixtures, and equipment.
Specifications
A leveling foot has a threaded stud for adjusting the level. A leveling pad has a recess on which a leveling stud rests. For both types of products, specifications include dimensions such as:
base diameter, base thickness, and thread size
materials of construction, including plating material or finish
load rating
swivel angle
Metric leveling feet and pads are usually measured in millimeters (mm). Sizes for leveling feet, pads, and glides that use the English or imperial system of measurement are given in inches (in.) or fractions of an inch. For all types of leveling products, steel and stainless steel are common materials of construction. Often, steel leveling feet, steel leveling pads, and steel leveling glides are plated with zinc or treated with black oxide or yellow chromate. Stainless steel leveling feet, pads, and glides are usually made of 300 series or 400 series stainless steel.
Types
Although suppliers may use different naming conventions, there are several basic types of leveling feet, pads, and glides. Categories include:
stud less leveling feet
stud leveling feet
jig feet leveling products
jig feet leveling assemblies
Leveling feet without studs have a large-diameter pad that can be fitted with a rubber cover to prevent sliding on sloped or uneven surfaces. A large ball provides a high-load capacity and determines the total swivel angle, typically 15 or 20 degrees. Stud leveling feet have a large-diameter pad and integral stud which, along with the ball, forms one solid piece. As a rule, load capacity drops significantly with longer studs. Jig leveling feet consist of a medium-duty leveling foot with a removable pad. Leveling studs that use a left-hand thread prevent back-out while allowing the pad to rotate freely. Jig feet leveling assemblies are complete leveling assemblies that include a radius-head screw, plate, and hex nut. Other types of leveling feet and pads include tapped, metric tapped, threaded, and metric-threaded products.
Standards
Leveling feet, pads, and glides that are designed for use in food processing and pharmaceutical applications should comply with requirements from the United States Department of Agriculture (USDA) and/or the Food and Drug Administration (FDA). For example, leveling feet with a rubber base should meet the requirements of FDA 177-2600 and be able to withstand operating temperatures from -20 to 100 degrees Celsius. Leveling feet and leveling pads that are used with industrial machinery should also meet relevant safety guidelines, especially with regard to impact and vibration.
Related Information
CR4 Community—Washing Machine Balance...Walking and Banging
CR4 Community—Ball Studs and Leveling Devices
Image credit:
Acosta.eu / CC BY-SA 4.0