Production Machining Information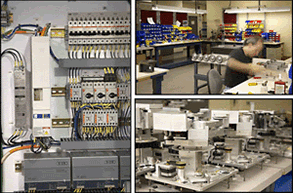 Image Credit: Lovejoy Chaplet Corporation | EF Precision Group (The) | Swissomation, Inc.
Production machining services provide high-volume production runs of parts and perform a variety of machining services. Companies that lack the equipment or means to produce large quantities of a specific part can utilize production machining services to save time and money.
Capabilities
Assessing the capabilities of different production machining services is the most important factor in the selection process.
Machining Processes
The capabilities of a production machining service company are largely dependent on the types of machining the supplier can perform. Typical production machining services include:
Broaching is a planing or shaping process that involves using a cutting tool to remove material and shape a hole or outside surface of a part.

Drilling may encompass a number of different methods used to drill holes in parts.

Grinding

incorporates a broad range of processes that use abrasive wheels to machine and shape parts.

Honing uses abrasive stones or silicon-carbide slips that move in both rotational and axial directions to obtain a specified finish or dimensional tolerance.
High speed production honing. Video Credit: Degen Maschinenbau GmbH / CC BY 3.0
Milling is a versatile machining process that can perform many different types of cuts on a workpiece.

Turning describes machining processes performed on a lathe, where a cutting tool is applied parallel to a workpiece being rotated continuously.
Other, more specialized processes include:
Abrasive flow machining
Abrasive jet machining
Electrochemical and photochemical machining
Production Machining Equipment
While most types of machines can be automated for production machining (either mechanically via cameras or computer control via CNC), there are a number of pieces of equipment used exclusively in high volume machining processes.
CNC lathes are lathes that utilize computer numeric control to automate the turning or boring machining process for faster, more consistent part production.
CNC lathe. Video Credit: Techberth Mechanical Engineering / CC BY 3.0
Hydromats or rotary transfer machines

are used to machine and produce very high volumes of parts. Tools on rotary transfer machines are typically in a spindle, and the workpieces rotate from spindle to spindle for different cutting operations. Outputs typically range above 100,000 parts per order.
Image Credit: Hydromat, Inc.
Screw machines

are automatic lathes that use a turning process to manufacturing small- to medium-sized parts in high volumes.

Swiss screw machines

are types of screw machines used for the high-volume production of precision components.
Specific Capabilities
In addition to the types of machining services and equipment, it may be important for suppliers to specifically offer either CNC or micro machining services.
Computer numeric controlled (CNC) machines

are those that use a computer to automate and control the machining process. Often this allows part designs to be uploaded via AutoCAD drawings. Once configured and programmed, CNC machines can typically run for long periods of time with minimal operator assistance. CNC machines cost more than traditional machines, but part production is faster and more precise and repeatable.

Micro machining

is the machining of tiny parts and features with small tools and precision machines.
Serviced Materials
Machining services may only be able to handle certain types of materials depending on the capabilities of the equipment and the intrinsic properties of the machining services. For example, most standard milling machines and lathes could not adequately handle metals with high hardness without excessive wear of the cutting tools. Temperature-sensitive materials would also limit the applications of many standard machining processes which generate high heat from friction. Therefore, it is important to find a production machining service that specifies its ability to handle the material(s) required for the application. Commonly serviced materials include:
Aluminum

Brass

Bronze

Cast iron

Copper

Nickel

Plastics

Stainless steel

Steel

Titanium
Other Considerations
Once all of the service criteria for part production have been met, factors such as cost and location need to be added to the equation.
Cost
The cost of a service is important to consider in any application. Quotes (cost estimates) for part production orders are given to the customer after he or she provides the supplier with a description of the job requirements. Cost typically correlates to the time spent producing the product and the expense of the materials used (when purchased by the service company). Additional costs include transportation or shipment costs of the parts once they have been made.
Location
The location of the service provider is important to consider both for logistical reasons and expenses. Operations located farther away from the customer will have higher associated shipping costs, especially for large production volumes. In addition, there may be additional logistical complications when dealing with suppliers from different countries.