From
Condensed Handbook of Measurement and Control, 3rd Edition
Overview
The design of control centers must meet the codes and regulations in effect at the site as well as the requirements for the plant's operation. Control centers, also commonly referred to as "control rooms," form the nerve center of a plant. They are generally air-conditioned, sometimes pressurized with clean air, and their temperature and humidity are controlled to preset conditions. Additional information is available from ISA-71.01 1985, Environmental Conditions for Process Measurement and Control Systems: Temperature and Humidity.
When designing a control center, the designer must develop a layout (see figure 11-1) and ensure that the center's design and use conforms to good engineering practice and standards. A good source of information on these is ISA's RP60 series of recommended practices for control centers. Some of the items that should be addressed when designing control centers are design, physical aspects, security, fire protection, air conditioning, electrical/electronic, and communication. These are discussed in this chapter.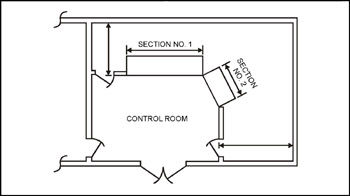 Figure 11-1:

Example of a control center layout.
Design
Many points should be considered when designing control centers. For example, the control room should be located, whenever possible, away from sources of vibration and completely protected from heavy rain, external fire-fighting water, and the like. In some cases, the control room must be earthquake-proof. For safety purposes, no process lines should enter the control room except for instrument air. The electrical area classification should be taken into account when locating and designing the control room.
Where required (and where economically justifiable), the control room may need...
Copyright ISA-The Instrumentation, Systems and Automation Society 2007 under license agreement with Books24x7
---
Products & Services
---
Topics of Interest