From
Mobile Communications Engineering: Theory and Applications, Second Edition
8.5

Nonconstant Envelope Modulation

In the nonconstant envelope modulation, the information can be modulated on the amplitude of carrier frequency such as AM (amplitude mod- ulation) and SSB (single sideband), the common modulation schemes belonging to this family. The power spectrum efficiency of this kind of modulation is always higher than other kinds such as constant envelope modulation. However, in the mobile radio environment, the multipath fading distorts the signal envelope. Therefore, the information can be very hard to receive undistorted without any special treatment. For this reason, the nonconstant envelope modulation is not very popular in mobile radio or mobile wireless systems. The following section describes one of the nonconstant envelope modulations called QAM [17, 24, 25, 26].
QAM (quadrature amplitude modulation)
QAM signaling can be viewed as a combination of amplitude shift keying (ASK) and phase shift keying (PSK). It can also be viewed as an amplitude shift keying in two dimensions. In an M-ary QAM signal, the signal in each state I is
| | |
| --- | --- |
| (8.106) | |
where A is a constant,
representing the amplitude of the lowest state, and ( a i, b i) is a pair of identifying states in the constellation of the ith state. The 16-QAM constellation diagram is shown in Fig. 8.22.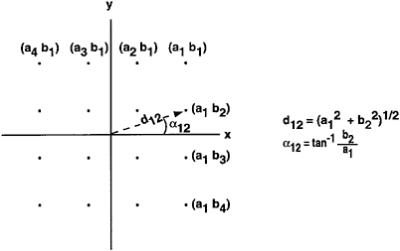 Figure 8.22:

The 16-QAM constellation diagram.
The probability of error for QAM can be determined from the probability of error for PAM. For the probability of error of a

PAM is expressed as
Copyright The McGraw-Hill Companies, Inc. 1998 under license agreement with Books24x7
---
Products & Services
---
Topics of Interest