Edge Connectors Information
Definition
Card edge connectors (also called edge card connectors) are embedded devices that mate with the edges of single-sided or double-sided printed circuit boards (PCBs) in order to provide an external electrical connection. Industry standards define power specifications such as voltage levels, power pin placements, and power requirements. For example, PICMG 1.0/1.2 standards define the power specifications for peripheral component interconnect (PCI) and industry standard architecture (ISA) buses.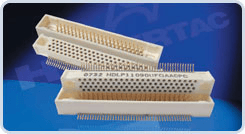 Contacts
The contacts are made of metal and are plated with a thin, metallic coating that improves conductivity and prevents rust and corrosion. Plating materials include:
Gold

Copper

Nickel

Silver
Contacts are housed in a termination assembly that is usually made of plastic. Card edge connectors are used widely in personal computers (PCs) and, depending on their components, are suitable for some lead-free applications and compliant with RoHS.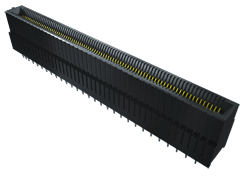 Rows
Typically, card edge connectors are available with one or two rows of contacts.
Contact Pitch
The distance between pins, can range from as small as 0.0197'' or 0.5 mm to as large as 0.111'' or 2.84 mm.
Geometry
There are straight and right angle card edge connectors. These distinctions simply refer to the way the card edge connector is bent.
Terminations
Crimping

compresses or deforms a contact wire barrel around a conductor.

Wire wrapping requires the use of a special tool to wrap a stripped or unstripped wire around a terminal post that contains a series of sharp edges.
Insulation displacement connectors (IDCs) slice through the cable insulation to make a connection. Electrical connection is made when an insulated conductor is forced into a restrictive slot in the connection part of a contact, during which time the insulation is displaced, and the bare wire engages the sides of the slot. IDC card edge connectors are mass termination connectors for flat cables that displace the conductor insulation to complete termination. They eliminate the need to strip insulation.
Printed circuit board (PCB) card edge connectors (often referred to as solder or solder pin connector), termination of the electrical connection is made by soldering wires or pins onto a printed circuit board.
With solder cup terminations, soldering the connector onto the mounting location creates an electrical connection.
Other termination methods also include cage clamps, screws, lugs, and quick-connect tabs.
Performance Specifications
Includes the following; number of contacts, voltage rating, current rating, contact resistance, insulation resistance, dielectric withstanding voltage, and operating temperature.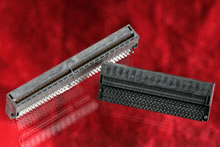 The voltage rating is the maximum operating voltage.

The current rating is the maximum recommended continuous flow of electrical current.

Contact resistance measures the electrical resistance of mated contacts that are assembled in a connector for typical service use.

Insulation resistance is the electric resistance between two conductors separated by an insulating material.

Dielectric withstanding voltage is the maximum potential gradient that a dielectric material can withstand without failure.

Operating temperature is a full-required range. For specific performance specifications, contact one of the card edge connector manufacturers.
Approval Organizations
Card edge connectors meet the requirements of a variety of national and international approval organizations. Examples include:
Underwriters Laboratories (UL)

The 'National Electrical Manufacturers' Association (NEMA)

The International Electrotechnical Commission (IEC)

TÜV Rheinland/Berlin-Brandenburg provides international approval services for product safety.

The CSA mark indicates compliance with Canadian standards.

CEE and VDE marks identify conformity with European guidelines.

Japanese industrial standards (JIS)

RoHS compliant
Standards
BS CECC 75100 - Quality assessment for electronic components: two-part and edge socket connectors for printed circuit board applications.
IEC 60603-5 - Connectors for frequencies below 3 MHz for use with printed circuit boards part 5: Edge-socket connectors and two-part connectors for double-sided printed boards with 2.54 mm (0.1 in) spacing.
Resources
Image Credit: Samtec Inc. | Molex | Hypertac