Material Handling Automation Information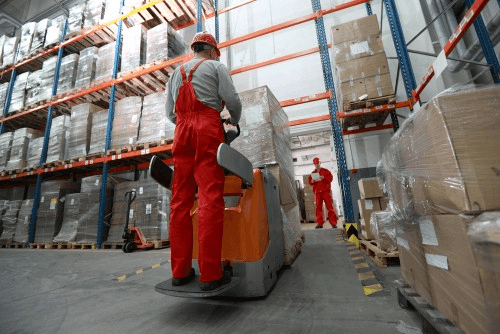 Material handling automation services provide single source automated equipment and systems solutions for the material handling process. Material handling automation equipment is commonly found in warehouses and manufacturing facilities where mass production necessitates heavy machinery to create useful products from raw materials. Companies use automated material handling equipment because it increases productivity and reduces waste, which results in significant cost savings. Material handling automation equipment reduces the need for human involvement in the manufacturing process. As a result, the likelihood of human error or injury decreases. This kind of equipment is often used for work that would otherwise be beyond the physical limitations of a human being, such as lifting extremely heavy loads or working with dangerous material. The following table describes the common types of material handling automation equipment.
Types of Equipment
| | |
| --- | --- |
| Equipment Type | Description |
| | Automatic guided vehicles (AGV) are designed to perform their operations without direct human guidance. They are used in a wide variety of industrial applications and can be laser, inertia or Cartesian-guided. |
| | Automatic storage and retrieval systems (ASRS) are automated, robotic systems for sorting, storing, and retrieving items in a warehouse. |
| | Carts, trucks, and dollies are mobile devices for transporting goods and materials. |
| | Conveyors are horizontal, inclined, declined, or vertical machinery that transport bulk materials from one place to another at a controlled rate. |
| | Cranes are used for lifting and lowering loads, and moving them horizontally. |
| | Industrial lifts are used to raise and lower material, personnel, and workpieces for loading, working, and positioning. |
| | Pallet transfer systems are used to automatically move pallets from one location to another. |
| | Pallet stackers automatically align and stack similar pallet loads, one on top of the other. Pallet dispensers or feeders are devices used for feeding empty pallets. |
| | Palletizers place goods on pallets in an orderly fashion. |
| | Parts feeders are machines that orient parts so that a robot or other automatic process can use the parts. |
| | Pick and place machines automatically move products from one location to another predetermined location. They can function as a collator or pattern maker, or be used to load products into other packaging machines, onto pallets, or onto other conveyor lines. |
| | Robots are programmable, multifunctional devices that move material, parts, tools, or other devices through programmed motion for a variety of tasks. |
| | Machine vision systems are used for automated inspection and measurement in production environments. |
Material handling automation services provide various consulting services that can range from planning a simple equipment upgrade for an existing system to more involved services such as complete turnkey solutions. They can help clients determine the best approach for automating the factory, leaving the client to acquire the necessary equipment; or, they may provide full-service planning and then supply, install, and provide training to the client for the new system. Many of these services focus on computer software and computer automation of the factory floor. The following table describes some of the services that may be provided by material handling automation companies.
Types Automation Services
| | |
| --- | --- |
| Service Type | Description |
| Safety and Operator Protection | Suppliers can design and provide systems that protect machine operators and others from dangerous situations. |
| CAD / CAM Support | Suppliers can provide CAD / CAM support. Computer aided design (CAD) is used to design products quickly and accurately. Computer aided manufacturing (CAM) is used to fabricate products directly from CAD outputs. |
| Control System Design / Programming | Suppliers can design and/or program automation controls systems. |
| Equipment Design | Suppliers can help with concepts, manufacturing costs, manufacturing techniques, and material considerations. Suppliers may also be able to assist in upgrading, redesigning, re-evaluating, or modernizing existing products to increase performance and/or reduce manufacturing costs. |
| Systems Design / Integration | Suppliers can design and integrate separate equipment into a centrally-controlled system. |
| Factory Automation | The term factory automation (FA) refers to computer-driven assembly lines. |
| Manufacturing Cells | Suppliers can automate one or more pieces of computer-controlled equipment into manufacturing cells. |
| On-site Support / Training | Suppliers can provide training or support at the customer's facilities. |
| Process Development | Suppliers provide product or process development. |
| Turnkey Systems | Suppliers of turnkey systems assume complete responsibility, from design through project completion. This may include equipment, material handling, and controls. |
Service Considerations
When selecting a material handling automation service provider, consider the following:
What is the goal of the material handling automation project?
What is the cost of the service required?
What is the expected cost savings after the project is completed?
What kind of material is to be handled?
What safety concerns are involved?
Does the material handling automation service provider have prior experience relevant to what the client is looking for?
If the material handling automation service is proving the necessary equipment, is the new equipment compatible with the client's existing equipment?
Will the material handling automation service provider provide training and support for the new system after the project is complete?
References
Automated Material Handling and Storage Systems (PDF)
Image Credit
BuyerZone