Robotic Tool Changers Information
Description
Robotic tool changers attach tools to the ends of robotic arms. By providing a high degree of repeatability for millions of cycles at rated loads, robotic tool changers reduce non-productive tooling time and help speed manufacturing operations. They also reduce the risk of injury to personnel who would otherwise need to change tooling by hand.
Robotic tool changers are known by a variety of names. Common terms include:
Automatic tool changers

Robot tool changers

Robot couplers

Robotic couplers

Robotic connectors
Find Robotic Tool Changers by
Specification
or
See our
Directory
of Suppliers
They contain two mating parts, master and tool, that are designed to lock together automatically and hold the tooling in place. The master side of the tool changer attaches to a robot, CNC machine, or support structure. Suppliers often provide mounting plates or other mounting hardware. The tool side mounts to tooling such as grippers, welders, and cutting burrs.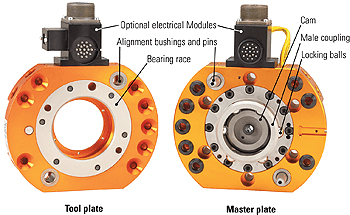 Most robotic tool changers are driven by electric, pneumatic, or hydraulic power and use internal or external utility lines. Some products include a purge port for venting vapors. Others feature a coolant module for high-temperature applications.
Performance Specifications
Performance specifications for robotic tool changers include tool weight, payload, and nominal operating pressure.
Tool weight is an important consideration because it may limit robotic performance.

Payload is the rated mass or weight that robotic tool changers can handle.

Nominal operating pressure, the required air pressure for consistent tool changing operation, may be expressed as a single number or a range.
Find Robotic Tool Changers by
Specification
or See our
Directory
of Suppliers
Electrically-powered tool changers differ in terms of the number of electrical contacts, required voltage, and required amperage. For high-power products, cable size and duty cycle are additional considerations.
Specifications for pneumatic tool changers include the number of ports, line size, and thread type. For hydraulically-powered robotic tool changers, suppliers often specify the number of lines, required voltage, required amperage, cable size, and duty cycle. Typically, duty cycle is expressed as a percentage (%).
Applications
Robotic tool changes are used in both large-scale manufacturing and small-scale assembly.
In the automotive industry, robotic tool changers are used for welding, pressing and stamping, and press-to-press operations.
They are also used in grinding, finishing, and machining operations; pick-and-place applications; and medical and sterile environments such as laboratories and clean rooms.
Products that are designed for corrosive environments or that are suitable for food and beverage processing are commonly available.
References
Image Credits: