Ceramic Sheets and Boards Information
Description
Ceramic sheets and boards are stock shapes available as solid plates, slabs, and substrates. The board or plate may consist of a ceramic fiberboard product, a dense sintered ceramic plate, or a precast cement bonded slab.
Materials
Ceramic sheets and boards are made of many different types of ceramic materials. Choices include:
Alumina

Alumina oxide

Alumina-zirconia

Aluminum-nitride

Aluminum silicate

Boron carbide

Boron nitride

Calcium aluminate

Carbon

Ceria

Cordierite

Forsterite

Graphite

Hafnia

Hafnium oxide

Kaolin or clay-based

Magnesia

Magnesite

Metal boride

Mullite

Rare earth oxides (REO)

Porcelain

Sapphire

Silica

Fused silica

Silicon carbide

Silicon nitride

SiAION*

Silicide

Steatite

Titania

Yttria

Tungsten carbide

Zircon

Zirconia

Zirconium phosphate
*SiAION is an alloy of silicon nitride and aluminum oxide that provides a superior refractory material.
Applications
There are many different applications for ceramic sheets and boards.
Bioceramics are specially formulated or designed to have suitable biocompatibility for biotechnology and medical applications.
Optical-grade materials are used in the fabrication or processing of optical components such as lenses, windows, or prisms.
Some ceramic sheets and boards are used in chemical and material processing, dielectric and electrical insulating, or foundry and metal processing applications.
Others are used to fabricate electrical parts for high voltage (HV) or power applications.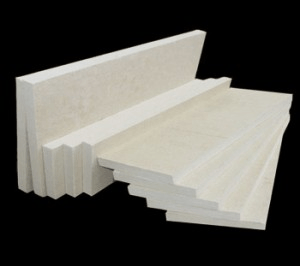 Ceramic boards that are designed for electronics, radio frequency (RF), microwave, structural, or wear parts applications are also available from many different suppliers.
Specifications
Dimensional specifications for ceramic sheets and boards are given as length, width, and thickness or wall thickness. Units of measure include inches (in) and fractions of inches, and millimeters (mm) and centimeters (cm).
In terms of features, some products are coated, hollow, or modified. Others are porous to provide insulation, or made of single-crystal materials that exhibit desirable piezoelectric, optical or magnetic properties. Sintered ceramic sheets and boards are also available. Often, hot isostatic pressing (HIP) is used to densify these materials.
Standards
GM CMZ ZZ013AA - Sheet-ceramic fiber insulation
SAE AMS3871 - Glazed ceramic sheet 95% alumina
SAA AS 4359.2 - Insulating refractory ceramic fibers - board
References
Image Credits:
Simond Fibertech Limited | CeramTec North America | Global Insulation Products