Optical Polarizers Information
Optical polarizers are optical devices that can transform unpolarized or natural light into polarized light, usually by the selective transmission of polarized rays. They are used in infrared (IR), visible light, and ultraviolet (UV) applications.
Rapid Learning: Polarizing of Light. Video Credit: Rapid Learning Center / CC BY-SA 4.0
Types of Optical Polarizers
There are many different types of optical polarizers.
Optical Polarizer Review. Video Credit: edmundoptics / CC BY-SA 4.0
Specifications
For each type of optical polarizer, performance specifications include clear aperture, extinction ratio, transmittance, beam deviation, and operating temperature. Polarizer surface criteria is another important specification to consider.
More information on these specifications can be found on IEEE GlobalSpec's How to Select Linear Polarizers.
Features
Optical polarizers are available with features that include an antireflective coating, pigtail, and broadband connections. An antireflective coating will improve transmission, reduce glare, and improve readability. Broadband has a uniform optical characteristics over a wide area of the spectrum in the polarization rotator. Pigtail describes a polarization rotator which has a short length of optical fiber permanently fixed to a component. They are used to achieve accurate mounting for precision alignment of optical components.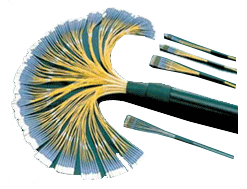 Fiber optic pigtail. Image Credit: DIY Trade