Grinding Mills and Pulverizers Information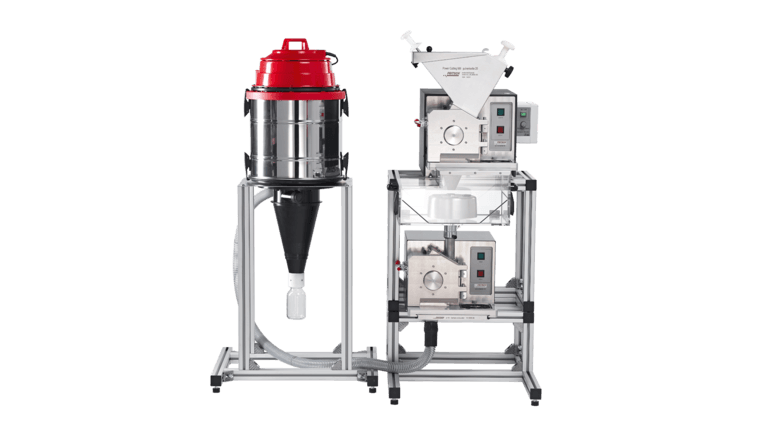 Grinding mills and pulverizers transform course materials into finer shards or granules. Mills and pulverizers move materials through various devices that use pressure and blades to grind it.
Types
There are several types of grinding mills and pulverizers available to industrial buyers. These types include,
The tumbling reservoir of a ball, tube, roller, media, or vertical mill uses the impact and friction of the feed material, often supplemented by the action of stone or metal shapes.
Hammer and impactor pulverizers use large hydraulic steel plungers or drop-down arms, either repeatedly or with stead force. Some use cages or chains instead.
Ring or disc mills use both inside and outside surfaces of a rotating circle for grinding.
HPGR (high pressure grinding rollers), roll, or roller mills pulverize material as it moves between two large rollers or a roller and a flat surface. The rolls can be serrated, toothed, or smooth.
A granulator, cutting, knife, or shredder pulverizer uses numerous evenly spaced blades to finely mince material. Some devices contain both vertically and horizontally blades, producing a confetti-like output. Wood hogs use blades to produce wood chips.
Rotor, pin, or universal mills use high speed and centrifugal force.
Jet or fluid energy mills project a stream of feed particles against another jet or a chamber wall.
Buhrstone or attrition mills rotate a grooved stone or metal plate against a stationary one of similar substance.
Video credit: shsbjq / CC BY-SA 4.0
Specifications
Important specifications when selecting grinding mills and pulverizers include,
The size of the mill can range from pilot/lab to production, e.g., 3.5 to 1600 cu. ft.
Feed size, material, and hardness of feed must be considered.
Output size ranges.
Mills can handle dry or wet input, or both.
Mills operate in batches or continuously.
Applications
Pulverizers crush glass, aluminum, concrete, plastic, coal, rock, resin, tires, waste, and other materials. They are used in the ceramics, chemical/fertilizer, construction, food processing, pharmaceutical, metallurgy, paint/adhesives, pulp/paper, coal, and recycling industries.
References
Overview of Munson Size Reduction Equipment
Videos of Various Mill Systems
Image credit: