Grating Information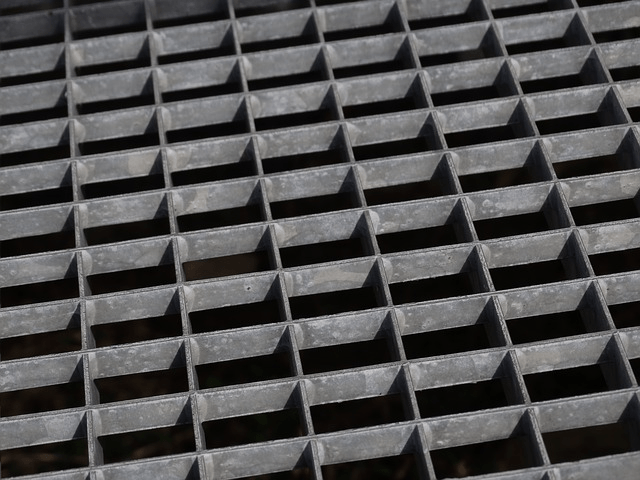 Grates consist of a metal or fiberglass lattice that provides a slip-resistant floor or semi-open surface. Metal grates are usually made of aluminum, steel, stainless steel, or galvanized steel. They are available in a variety of shapes, mesh types, and sizes. Fiber reinforced plastic (FRP) products are made by weaving continuous strands of fiberglass through thermosetting plastics. Grates are often used as anti-slip or non-slip safety flooring in plants, factories, and processing facilities.
Types of Grating
Examples include:
grills
grids
grip plates
grip grates
stair treads
expanded metal step covers
road plates
perforated plates
bar grating
Bridgewalk, sidewalk, and walkway grates are also available. Roadway gratings for resurfacing and paving projects have excellent bi-directional mechanical properties and good chemical resistance. They are also used for power generation, sewage treatment, and oil refining applications.
Materials
Fiberglass open-molded grates are based on polyester and vinyl ester resin systems. They are fire retardant and meet incidental food-contact guidelines from the U.S. Department of Agriculture (USDA). Fiberglass open-molded grates and grating materials come in a variety of colors and may provide protection against ultraviolet (UV) light. There are several different surface types and grating styles. Grit-top products include embedded silica sand to a nominal depth as required by the application. Applied-grit products use epoxy grits bonded to concave, half-moon (meniscus) cross sections. Grates and grating materials that use bearing bars or cross bars are commonly available.
Specifications
Grates differ in terms of product specifications and features. Plates come in widths of 4 in., 5 in., or 6 in. and lengths of 8 in., 10 in., or 12 in. Planks are available in a variety of styles, types, and sizes. Flattened expanded metal products can be purchased in stock sheets or cut to size. Vault covers meet specifications from the U.S. Department of Transportation (DOT). Ladder rungs and covers are solid shapes or tubes that are available in three grades: fine, medium, and coarse. Stair treads and covers are available as grates, plates, perforated plates, or expanded metal. Nosings have countersunk holes or anchors and meet building codes and requirements from the U.S. Occupational Safety and Health Administration (OSHA). Specifications for road plates include maximum load and coefficient of friction. Bridgewalk, sidewalk, and walkway grates and grating materials provide high-traction, all-weather decking. Sidewalk grates and grating materials are used as street grates, air intakes, access covers, and entryway grates.
Related Information
CR4 Community—Piping for a Fireplace Grate