Conveyor Chain Information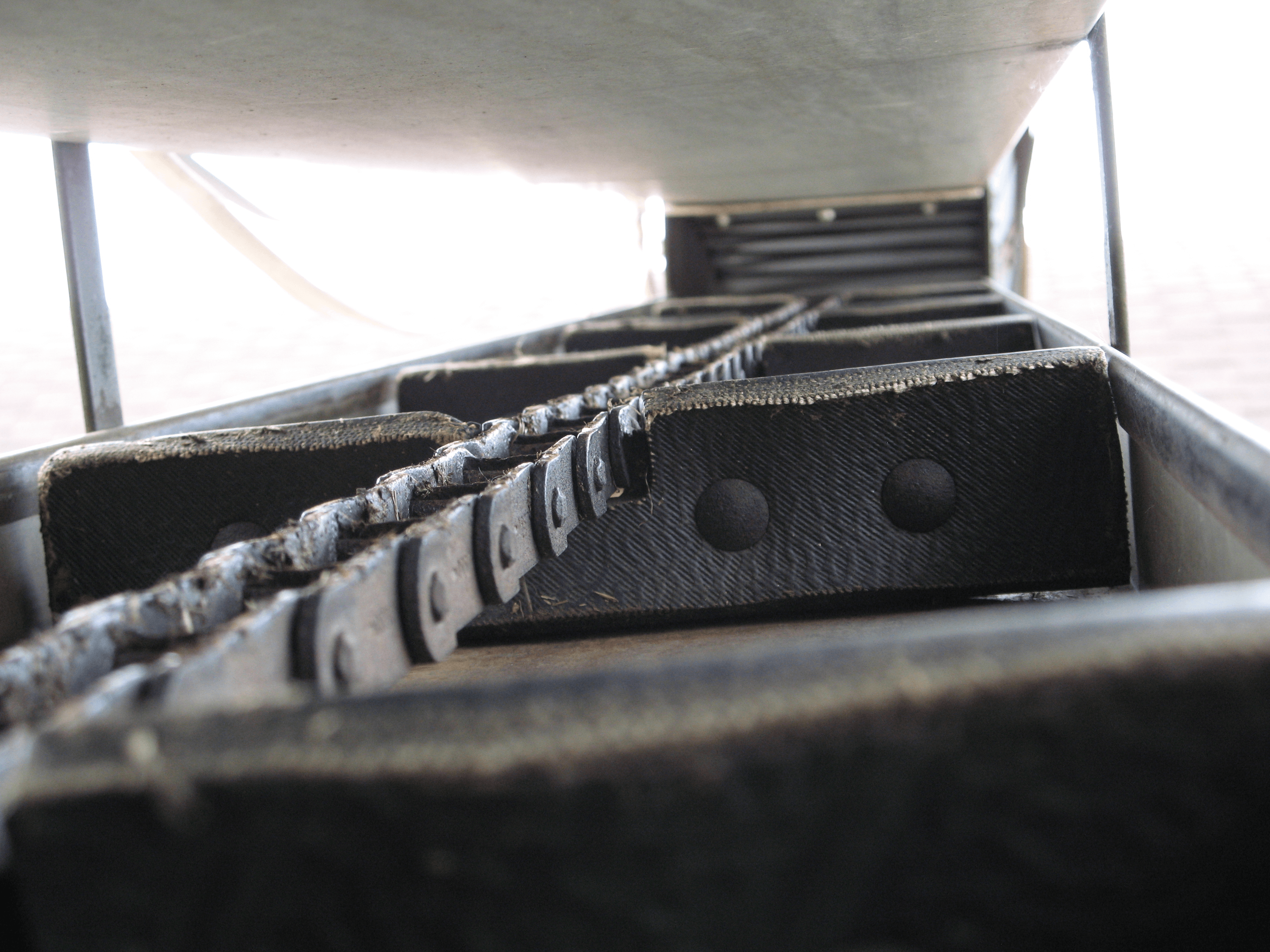 Conveyor chain is used for material conveyance under harsh conditions, in specialty applications, or when material can be allowed to fall through gaps in the conveying surface. Like a transmission chain, a conveyor chain consists of journal bearings that are joined by link plates. These bearings consist of a case-hardened pin and bush to allow a roller to revolve while permitting articulation under high pressure. Conveyor chain is available in a range of pitches. Wheel-tooth strength determines the minimum pitch and chain rigidity determines the maximum pitch. In some applications, strengthening bushes may be used between the link plates to exceed the normal maximum pitch. Gaps between the wheel teeth are used to clear the bushes.
Types
There are many different types of conveyor chain. Examples include:
hollow-bearing pin chain
deep-link chain
solid bearing-pin conveyor chain
Hollow-bearing pin chain permits the bolting of attachments to hollow bearing pins and outer links. To ensure the free articulation of the conveyor chain, bolted attachments should not span the inner link.
Deep-link chain has deep side plates that provide continuous carrying above the edge of the roller. Solid, or hollow, bearing pins with a cone shape may be used.
Solid bearing-pin chain has the same pitch, inside width, and roller diameter as hollow bearing-pin chain. Solid-pin chain is, however, designed for more demanding conditions.
Specifications
Specifications for conveyor chain include ultimate tensile strength (UTS) or breaking load, minimum and maximum pitch in millimeters (mm) or inches (in.), minimum bush diameter, inside width, outside width, pin type, pin diameter, maximum length, plate height, and total height.
Applications
Applications include coal mining, food processing, sewage treatment, and timber harvesting. Conveyor chain is also used with agricultural, bakery, harvesting, and textile machines; car, cement, and chemical plants; and sorting, handling, and material conveyors.
Standards
Conveyor chain is manufactured according to various national and international standards. For example, British Standard (BS) conveyor chain is designed to meet the requirements of the British marketplace. Products that are designed and manufactured according to specifications from the International Standards Organization (ISO) are also commonly available. ISO conveyor chain is used in Europe, but may not be interchangeable with BS conveyor chain. In Germany, products may comply with standards from Deutsche Institute fuer Normung (DIN), a German organization for standardization.
Related Information
Image credit:
DMahalko / CC BY-SA 3.0