Drum Heaters Information
Drum heaters are used to heat containers of viscous materials, like substances such as wax, grease, or oil. They are primarily used to heat drums, although some types may accommodate other types of containers or be in direct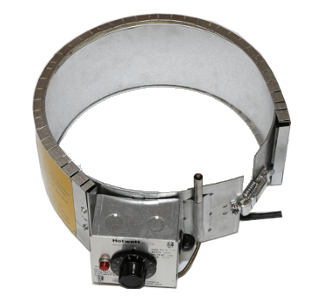 contact with process materials. They can be wrapped around, placed inside, or heat the entire containers and its contents.
Types
Cabinet heaters can heat either drums or containers of various capacities. They typically include a fan to increase air circulation and may be loaded and unloaded by forklift.
Insertion heaters contain heating elements that fit through standard bung openings, typically 2", located on the top of a drum. Since the heating element is submerged in the heated media, sheath materials and watt densities must be selected based on the type of fluids to be heated.
Tunnel drum heaters consist of a conveyor fed oven. They accommodate a first-in, first-out product flow and may be integrated into automated drum handling processes.
Wrap around heaters contain flexible heating elements that are incorporated into a jacket or band that is secured to the drum via a clamp or other fastener.
Fluid Media
Sleeve or sheath materials and watt densities are important selection criteria when the heating element is in direct contact with fluid media. The viscosity, specific heat, flash temperature and corrosive properties of the fluid to be heated impact the maximum permissible watt densities, sheath temperatures, and may dictate sheath materials. Common fluid media includes water, lightweight oils, heavy weight oils, medium weight oils, and corrosive solutions. The following chart specifies recommended sheath material, watt density, and maximum recommended sheath temperature for heating specific media types: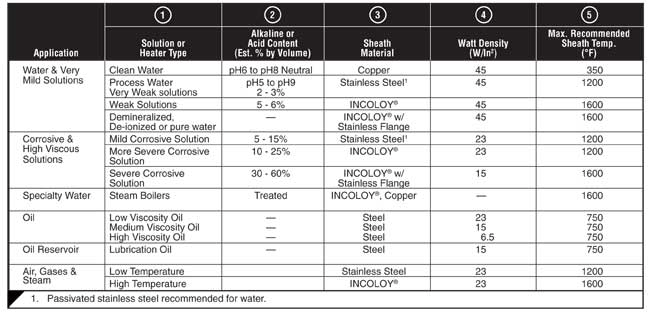 Drum Heater Fluid Media
Specifications
Specifications for drum heaters include capacity, maximum operating (sheath) temperature, watt density, sleeve or sheath material and available features.
Capacity refers to the drum size and number of drums that are accommodated by the heater. Standard drum sizes include: 5-gallon, 15-gallon, 30-gallon, 55-gallon, and 350-gallon intermediate bulk containers (IBC).
Maximum operating (sheath) temperature is the highest temperature that the heater's sheath (or protective cover) may reach. This is not the maximum temperature a heated substance may reach.
Watt density is calculated by dividing the available wattage by the heated surface area. It is a good measure of how quickly a drum heater can transfer heat to a surface.
Sleeve or sheath materials encapsulate and protect the heating element. Common materials include the following:
Aluminum
Brass
Copper
Fluoropolymer
High temperature foil (HT foil) | Ceramic foil
Iron
Nickel alloys (Inconel®, Incoloy®, Monel®)
Polyimide (Kapton®)
Rubber
Steel
Stainless steel
Drum heaters that have an exposed heating element with no sheathing are also available.
Features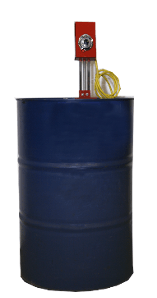 Hazardous location heaters are designed for use in places where there is a risk of fire or explosion. Underwriters Laboratories (UL) or other regulatory agencies often rate these devices.
Drum heaters with overheat protection contain an automatic shut-off other mechanism to prevent overheating of the material.
Drum heaters are offered with integrated, adjustable or preset thermostats to regulate and control temperature.
Standards
NFPA 86 --Requirements for the design, installation, operation, inspection, testing, and maintenance of Class A, B, C, and D ovens, dryers, and furnaces.
CSA C22.2 NO 155 --This standard applies to stationary electric duct heaters that are designed to be installed and used in nonhazardous locations in residential, commercial, and industrial applications, in accordance with the Canadian Electrical Code, Part I.
Image credit:
Hotwatt | Chromalox