From
Robotics
A potentiometer (or pot, for short) is a manually adjustable, variable resistor. It is commonly used for volume and tone controls in stereo equipment. On the RoboBoard a 10k pot is used as a contrast dial for the LCD screen, and the RoboKnob of the board is also a potentiometer.
In robotics, a potentiometer can be used as a position sensor. A rotary potentiometer (the most common type) can be used to measure the rotation of a shaft. Gears can be used to connect the rotation of the shaft being measured to the potentiometer shaft. It is easiest to use if the shaft being measured does not need to rotate continuously (like the second hand on a clock), but rather rotates back and forth (like the pendulum on a grandfather clock). Most potentiometers rotate only about 270 degrees; some can be rotated continuously, but the values are the same on each rotation. By using a gear ratio other than 1:1, the position of a shaft that rotates more than 270 degrees can be measured.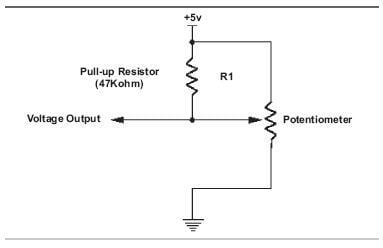 FIGURE 3.10 Potentiometer circuit.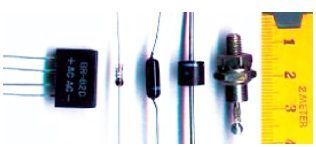 FIGURE 3.11 Diodes.
A potentiometer connected to a shaft and a lever can also be used to determine the distance to a...
More >>
Show More...
© 2006-2018 Infinity Science Press. All rights reserved.
---
Products & Services
---
Topics of Interest