From
Robotics
The shaft of a stepper motor moves between discrete rotary positions typically separated by a few degrees. Because of this precise position controllability, stepper motors are excellent for applications that require high positioning accuracy. Stepper motors are used in X-Y scanners, plotters, and machine tools, floppy and hard disk drive head positioning, computer printer head positioning, and numerous other applications.
Stepper motors have several electromagnetic coils that must be powered sequentially to make the motor turn, or step, from one position, to the next. By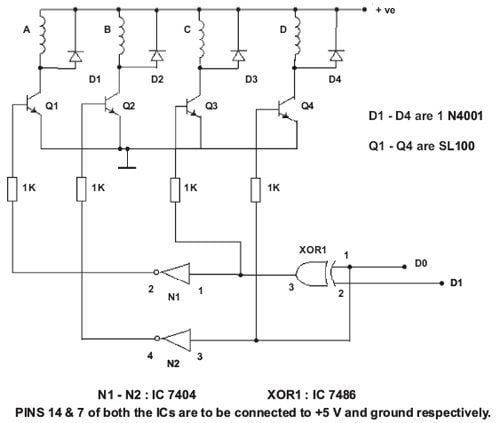 FIGURE 3.63
reversing the order that the coils are powered, a stepper motor can be made to reverse direction. The rate at which the coils are respectively energized determines the velocity of the motor up to a physical limit. Typical stepper motors have two or four coils. Anyway, here is a very simple stepper controller shown in Figure 3.63.
How Stepper Motors Work
We ve all experimented with small hobby motors, or free-spinning DC motors. Have you ever tried to position something accurately with one? It can be pretty difficult. Even if you get the timing just right for starting and stopping the motor, the armature does not stop immediately. DC motors have very gradual...
More >>
Show More...
© 2006-2018 Infinity Science Press. All rights reserved.
---
Products & Services
---
Topics of Interest