From
Robotics
An actuator is the mechanism by which an agent acts upon an environment. The agent can be either an artificial intelligent agent or any other autonomous being.
The common forms of actuators are pneumatic, hydraulic, or electric solenoids or motors.
Pneumatic actuators: A simplified diagram of a pneumatic actuator is shown in Figure 3.49 below. It operates by a combination of force created by air and spring force. The actuator positions control the valve by transmitting its motion through the stem.
A rubber diaphragm separates the actuator housing into two air chambers. The upper chamber receives a supply of air through an opening in the top of the housing.
The bottom chamber contains a spring that forces the diaphragm against mechanical stops in the upper chamber. Finally, a local indicator is connected to the stem to indicate the position of the valve.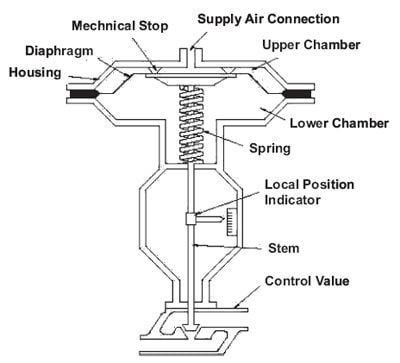 FIGURE 3.49 Pneumatic actuator: air-to-close/spring-to-open.
The position of the valve is controlled by varying the air supply pressure in the upper chamber. This results in a varying force on the top of the diaphragm. Initially, with no air supply, the spring forces the diaphragm upward against the mechanical stops and holds the valve fully open. As air...
More >>
Show More...
© 2006-2018 Infinity Science Press. All rights reserved.
---
Products & Services
---
Topics of Interest