From
Understanding Lasers
9.10.2 Bandwidth and Modes
Earlier sections have mentioned the oscillating modes of various types of diode lasers, but it is worth looking at them again and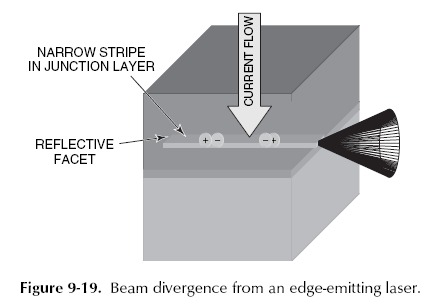 how they affect the spectral bandwidth of diode lasers. Spectral bandwidth is important in fiber-optic systems, because the slight variation in refractive index with wavelength can cause pulses to stretch out when traveling through long lengths of fiber, an effect called dispersion.
High-power diode lasers and arrays of many diode laser stripes oscillate in many modes, and the range of wavelengths they emit is usually limited to a nanometer or less, which is fine for most applications.
Narrow-stripe diode lasers typically oscillate in only one transverse mode, so they may be called "single-mode lasers," but Fabry Perot lasers can oscillate in more than one longitudinal mode, and hop between modes when operating conditions change. The modes are 0.2 to 0.7 nm apart, and the range of wavelengths they emit is too broad for high-speed fiber-optic networks.
DFB, DBR, and external-cavity lasers limit laser oscillation to a single stable longitudinal mode, giving them the extremely narrow bandwidth required for high-speed fiber-optic networks.
The short cavity of VCSELs limits them to oscillating in a single longitudinal mode, but their bandwidth is not as narrow as DFB or DBR lasers, which internally stabilize the output wavelength. Large-aperture VCSELs oscillate in multiple transverse modes.
© 2008
---
Products & Services
---
Topics of Interest