Packaging Machines Information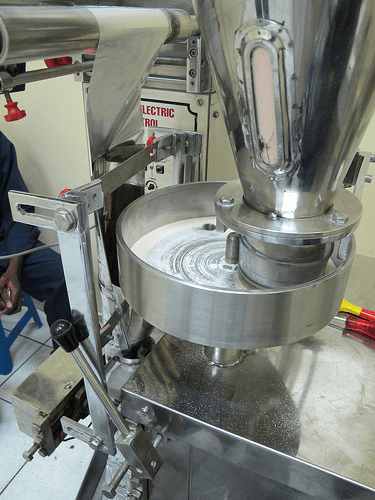 Packaging machines are used to package products or components. This product area includes equipment that forms, fills, seals, wraps, cleans, and packages at different levels of automation. Packaging machines also include related machinery for sorting, counting, and accumulating. There are many different package types. Examples include: aerosol containers, bags and pouches, blister packs, bottles and jars, cartons and boxes, cans, capsules, cartridges, cases, cups and trays, drums, kegs and pails, pallets and intermediate bulk containers (IBC), tubes, and vials. Closing methods for packaging machinery can use caps and lids, cork, glue, heat seals, nails or staples, tamper-evident or tamper-resistant tape, tuck and fold techniques, and wrapping paper.
Applications
Applications for packaging machinery include:
automotive
chemical and petrochemical
cosmetics and perfumery
electronics and semiconductor
food and food service
garment
household product
medical
military
music
video and software
pharmaceutical
stationary
tobacco
Types
There are many different types of packaging machines. Suppliers that provide integration services can help customers integrate new equipment into existing production lines or help set up equipment and train employees. Common packaging machine types include:
accumulators
batching machinery
bagging machinery
banding machinery or sleeving machinery
box making machinery
bundling machinery
capping machinery
cartoning machinery
closing machinery
Accumulators gather goods or items for processing. Batching machines prepare material for processing or packaging. Bagging machines place products in a bag, pouch, or sack. Banding machines and sleeving machines secure products together with a band or sleeve. Box making machines build boxes from cardboard. Bundling machines form goods into piles for subsequent banding or wrapping. Capping machines place, snap, or screw caps onto containers. Cartoning machines create cartons or boxes from cardboard. Closing machines are designed to close packages with a tying wire, narrow metal strap, or tape around the neck of the bag; by placing a lid on a can or drum; and closing a box or other type of package.
Manual, semi-automatic, and automatic packaging machines are commonly available. Product types include: cleaning machinery and sterilizing machinery, collating machinery, combining machinery, counting machinery, decorating machinery, erecting machinery, filling machinery and packer machinery, forming machinery, and inspection machinery. Form, fill, and seal machinery is also available. Cleaning machines sanitize containers or packaging devices. Collating machines package or assemble products in proper numerical or logical order. Combining machines form containers into a single line for subsequent filling operations. Counting machines count products before, during, or after a process. Decorating machines decorate packages. Erecting machines build packages such as cartons or boxes. Filling machines and packer machines fill bags, bottles, and cans with a predetermined volume of product. Forming machines are used to form containers or packages. Inspection machines review products for blemishes, leaks, or consistency.
Suppliers of packaging machines also provide: palletizers, de-palletizers, pallet dispensers, unloading machinery, sealing machinery, shrink machinery, strapping machinery and banding machinery, sorting machinery, tape dispensers, vacuum chambers, and wrapping machinery. Palletizers and de-palletizers place and remove goods on pallets in an orderly fashion. Pallet dispensers hold a number of pallets and dispense them on demand. Unloading machines remove products or goods from packaging. Sealing machines close and seal an individual package, or provide a continuous seal. Shrink machines apply heat to shrink a plastic wrapper around a product. Strapping machines and banding machines strap or band products. Sorting machines are used to divide groups of dissimilar products into the proper order. Tape dispensers are devices that hold a roll of tape for easy dispensing. Vacuum chamber machines package a product under vacuum. Wrapping machines range from small manual hand stretch wrappers to sophisticated automated wrapping stations. Other types of packaging machines are also available.
Related Information
CR4 Community—Packaging Machines
Engineering360—Sealing Machines: Operations, Specifications, and Applications
IEEE Spectrum—Do Robots Take People's Jobs?
Image credit:
Simon Berry / CC BY-SA 2.0
Read user Insights about Packaging Machines