Control Knobs Information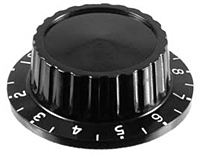 Control knobs are used for the control or adjustment of electronic or electrical devices. They are often referred to as instrument knobs, electronic knobs, or electrical knobs. Control knobs provide machines or instruments with precise position adjustments and controlled levels of circular motion. They may be marked with graduations in the form of lines or numbers to provide reference points for adjustments. Some electronic knobs may be customized with printed logos or raised type. Control knobs are usually made of metal, plastic, or rubber.
Specifications
The Engineering360 SpecSearch database contains information about bore diameter, mounting type, and special features.
Bore Diameter
A control knob's bore diameter refers to the outer diameter of the knob's mounting stud or hole. This specification is very important, as it ensures that the knob will successfully mount on the instrumentation panel or device.
Mounting
Control knobs may feature one or more of several different mounting styles.
The knob may include a bushing inserted into the bore to refine the bore size or resist abrasion.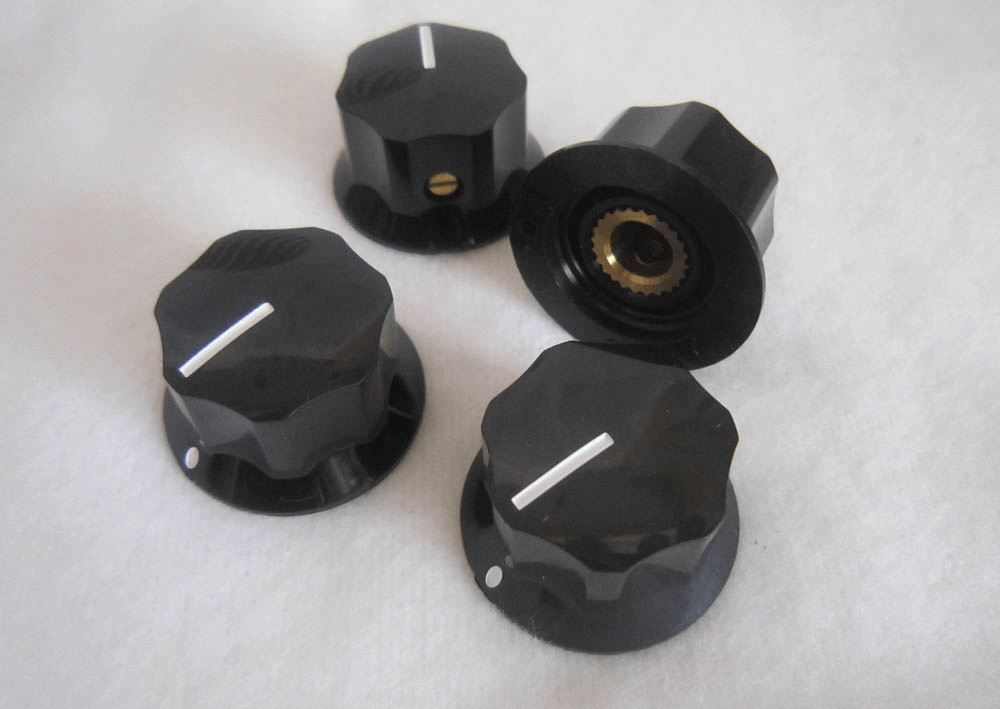 A control knob set featuring a brass bushing.
Image credit: RickySounds
A knob with collet mounting consists of an outer body with internal hardware. This internal hardware includes a collet, which is a sleeve with a cylindrical inner surface and a conical outer surface. When the collet is squeezed against a matching tapered stud, it contracts and creates a secure clamping hold on the stud. Collet mount knobs must be installed with a nut driver.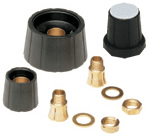 Disassembled knobs with collet mounting.
Image credit: Selco
Panel mount knobs are mounted to the flat surface a panel cutout using screws.
Stud mount knobs use a projecting stud, usually threaded, for mounting.
Threaded hole knobs feature a threaded bore which can be screwed onto a similarly threaded stud. In a thru hole mounted knob, the threaded hole extends through the entire height of the knob and is secured by a counter bore at the top.
Features
A control knob may feature a number of enhancements to its basic construction and shape.
Angle mount knobs can be mounted at any fixed angle, typically between 0 and 90°.
Knobs may feature textured grips, typically rubber, for increased handling.
Illuminated knobs are lit for improved visibility in low-light conditions.
Some knobs feature an indicator or pointer, which is a line or dot on the top or side of the knob. Knobs may additionally feature a numerical scale for position indication.
Knobs may be knurled to improve grip and handling. Knurling on a lathe cuts a pattern into the sides of the knob to accomplish this benefit.
Latching knobs have the capability to hold the knob in position.
Locking knobs prevent the knob from being moved without action by the operator. They may be unlocked with a pushbutton or key.
Skirted knobs flare out at the bottom and may be marked with a numerical scale or indicator.
A knurled, skirted control knob featuring a pointer.
Image credit: Keystone Electronics Corp.
References
Fastener Corporation of America - Fasteners and Hardware
Image credits:
Rogan | Allied Electronics