Handles and Pulls (industrial) Information
Industrial handles and industrial pulls are hardware components that are grasped by hand and manipulated to perform a service. They help the user to close and lock, and/or open a space with ease. Handles can be used to make carrying or transport easier or as a grip for safety purposes. Handles and pulls are used with machinery and industrial metal cabinetry.
Handle and Pull Type
Many types of industrial handles and industrial pulls are available.
Type of Handle or Pull

Description

Adjustable Handle

Image credit: Rogan Corp

Adjustable handles, or clamping handles, can adjust to several positions. Pulling up on the handle will disengage it and allow the stud or insert to remain stationary, allowing the user to move the handle to the desired position.

Chest Handle

Image Credit: H.A. Guden Co., Inc.

Carrying handles for chests, crates, or other similar applications. Some chest handles are surface mounted, while others are flush mounted.

Control Lever

Image Credit:Jergens

Control levers are designed for electric or electronic equipment.

Crank Handle

Image Credit:aMsp

The crank handle consists of a handle at the end of a crank arm. Crank handles are used as operating or positioning elements. Cranks handles may be supplied with revolving or foldaway handles.

Extruded Pull/Ledge Handle

Image Credit: aMsp

Extruded pulls may be called pull plates or ledge handles. They are surface mounted on the product and have an extruded pull surface.

Flush Pull

Image Credit: Grainger

Flush pulls are sometimes called cove handles, recessed handles or concealed handles. They are mounted flush and have a "cove" where the hand grips the handle.

Lever Handle

Image Credit: Jergens

A handle for operating a latch mechanism. Lever handles may be supplied spring-loaded to ensure return to original position after use.

Pull-out Carrying Handle

Image Credit: us-passport-service-guide.com

Pullout carrying handles for instruments, cases, and similar applications.

Ratchet Handle

Image Credit: Davis Molding

A ratchet handle is a combination of a crank and ratchet allowing faster, easier, and safer machinery adjustment. The ratchet design allows convenient reversal of the handle direction. The handle may be a revolving style.

Tapered Handle

Image Credit: CarrLane

Tapered handles are heavy-duty handles that make an excellent grasp handle or machine shift lever. They are suitable for machine shift levers while ratchet handles allow for the fast, safe, and easy adjustment of machinery. Tapered handles and pulls differ by either the overall diameter of the rounded knob, or the largest width of several non-circular knobs.

T-Handle

Image Credit: Grainger

The handle is shaped like a "T." It has handles on both sides of the mounting bar for easy gripping by the fingers.

Two-point Handle (Pull)

Image Credit: EMKA

Also called pull handles or U-handles. Two-pointed industrial handles and pulls vary in terms of the center spacing of the bores or studs that hold them in place.
Materials
Industrial handles and industrial pulls are usually made from metal, plastic, or rubber. When selecting the type of material for the handle or pull several criteria should be considered including strength of material, comfort of holding the handle, and the environment in which the handle or pull will be utilized.
A variety of colors and finishes are available to match the aesthetics of the surrounding area. Smooth finishes may be more difficult to grasp, but they are easier to clean. Depending on the material selected, grip can be integrated into the material or attached to the handle if necessary.
Specifications
Handles and pulls are available in a variety of specifications. Important measurements when selecting a handle for an application include height, handle length, diameter, and bore diameter.
Height is the overall height of the handle measured from the mounting surface. It is important that the handle be high enough to be easy and comfortable for the user to hold (i.e. adult vs. child handles). However, if it is too tall it may interfere with the flow of the environment and cause a hazard if objects accidentally hook on to the handle.
Handle length is the overall length of the handle. Again, the length of the handle depends on the application and the comfort of the user.
Center spacing applies to two-point handles. It is the center spacing of the mounting bores or studs, which determines how and where the handle can be mounted.

Diameter applies to tapered handles only. It is the overall diameter of round knobs, or the largest width of non-circular knobs.

Bore diameter is the inside diameter of the insert or outside diameter of the stud. It determines how and where the handle or pull can be mounted.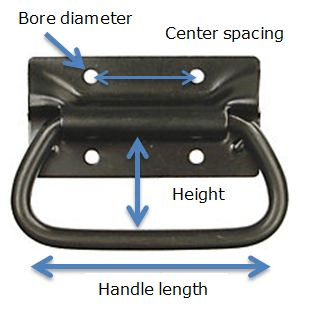 Mounting Type
Industrial handles and industrial pulls are used in a wide variety of commercial, industrial, and in some cases residential settings. They are used in such a wide variety of applications that it is important to consider what type of mounting is required for the desired application. Factors to consider when selecting a mounting option include: where the handle or pull will be mounted, the material it will be mounted to, whether it is a permanent or temporary mounting, and the function of the handle or pull once it is installed. Several options are available including:
Bushing- A bushing is inserted in the bore to limit the size of the opening, resist abrasion, or serve as a guide.
Molded thread- A thread is molded into the bore opening.
Panel mount- The knob or handle is inserted into a panel cutout and mounted to the flat surface using screws.
Push on- Also known as plain hole, the bore is simply a plain hole that the handle is attached to.

Stud- A projecting stud is used for mounting. The stud is usually threaded.

Threaded hole- Also known as an insert, the bore opening is threaded, or a threaded insert is inserted into a plain hole.

Thru hole with counter bore- The mounting hole extends through the height of the knob or handle and is accompanied by a counter bore on top.
Features
Industrial handles and industrial pulls are available with a variety of features.
Angle mounted handles and pulls are installed at a fixed angle, typically between 0° and 90°.
Handles and pulls with textured grips are easy to grasp and often made of rubber.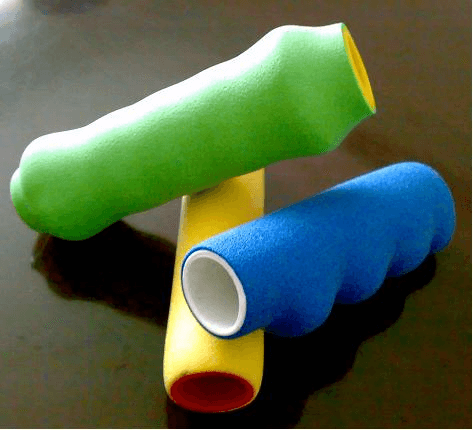 Image Credit: Preetham Products
A simple latching or locking mechanism locks the handle in place and requires a key for movement.
Handles and pulls with an integral indicator may include a top or side indicator line, a dot, an arrow, or a pointer as a reference. Devices scales use numbering to indicate position.
Fold away handles fold into the mount and remain out of the way when not in use.
Revolving handles revolve when in use. Cranks are often supplied with revolving handles.

Military specification (MIL-SPEC) handles and pulls are manufactured to military specifications.
Applications
Industrial handles and pulls are used in various parts of everyday life. They are found in a variety of applications including, but not limited to, industrial and manufacturing plants, residential, commercial, military, marine, and automotive.
Image Credits:
Newark | EMKA