Towers, Masts, and Poles Information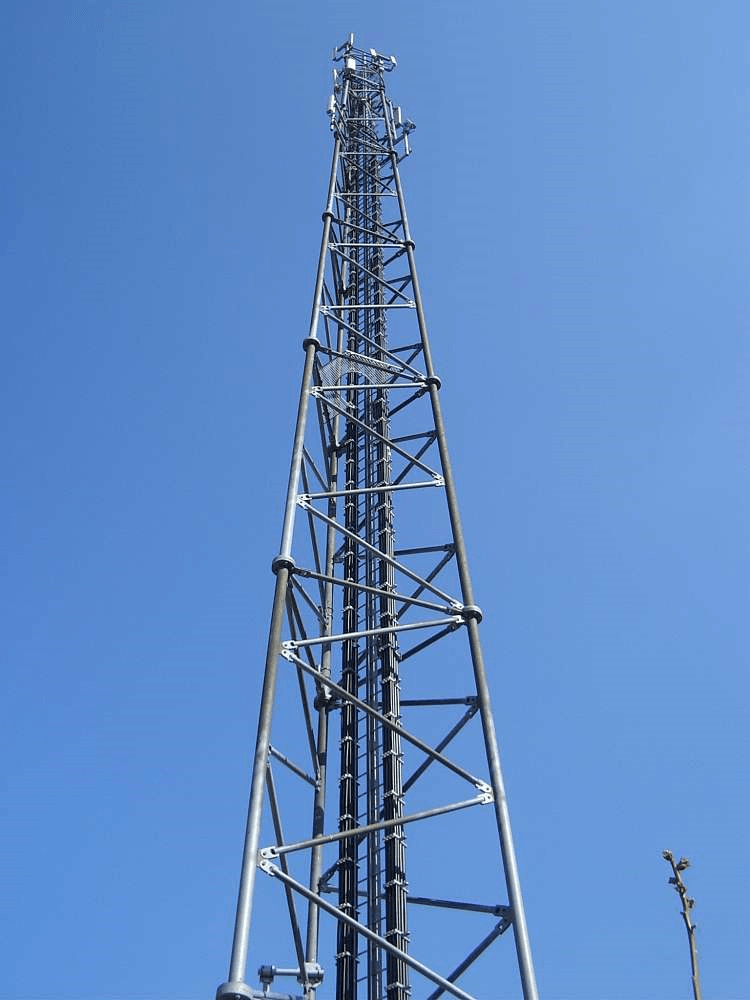 Towers, masts, and poles are used to provide elevation, stabilized support, or position control for personnel or equipment. They provide a line of sight for viewing and illumination as well as the transmission and reception of signals.
Materials
Most towers, masts, and poles are made of:
aluminum
steel
stainless steel
wood
plastic
composite materials
Aluminum is a relatively lightweight metallic element that provides high toughness at moderate strength levels. With the addition of copper, aluminum alloys can be heat-treated for higher hardness and greater strength. Carbon and alloy steels offer high toughness and good weldability; however, steel structures need to be painted or coated to prevent rust or corrosion. Stainless steel is highly corrosion resistant, but often too expensive for use in large towers, masts, poles, and support structures. Plastic products and fiber reinforced polymers (FRP) provide alternatives to metal materials. Some plastics offer strong dielectric and nonreflective characteristics. Others provide good electrical insulation and are relatively safe for use as mounting brackets or cross arms on power pole lines or towers. Though more costly than traditional plastic materials, fiberglass-reinforced plastic is stronger than wood and easier to maintain. Pressure-treated wood is used mainly for structural or building applications, but is also used for utility poles and lighting applications.
Types
There are many different types of towers, masts, and poles. Concealed or sheathed structures are attractive, unobtrusive antenna support structures used to provide wireless coverage. Some designs resemble clock towers or flagpoles. Fold-over towers bend or articulate at a 10-foot level or other interval to allow easier access for the maintenance of meteorological atmospherics, security cameras, lights, or other mounted equipment. Guyed towers use guy wires to support antennas and communication equipment for telecommunication, radio transmission, cellular, and wireless applications. Masts are often mounted on another tower or building to extend height or for horizontal extension from a tower or pole. Mobile towers often include a telescoping tower that tilts up or folds down. They are suitable for emergency communications, two-way radio, remote base stations, and cell-on-wheels (COW) applications. Poles are free-standing masts typically with solid cylindrical supports. Monopoles provide a free-standing tower for lighting, traffic, or communication antenna applications. Platforms towers are used mainly in surveillance, recreation, and construction. Other types of towers, masts, poles, and support structures include roof top towers, self-supporting towers, and telescoping or crank-up towers.
Applications
Towers, masts, and poles are used in a variety of applications. Some products are used to support antennas, lighting equipment, surveillance cameras, wind turbines, weather instruments, or power lines. Others are used to support storage containers such as water tanks or bulk material silos. Beacon and long range navigation (LRN) towers are designed for mounting navigation, directional, or lighting aids for aircraft, ships, trucks, or automobiles. Lifting towers provide crane-like material handling capability. Towers, masts, and poles are also used in offshore oil platforms or other oil extraction applications.
Related Information
CR4 Community—Calculating Tower Base Moment
CR4 Community—Cellphone Towers Disguised as Trees Are a Puzzling Attempt at Aesthetics
Engineering360—Precast Concrete Could Enable Taller Wind Turbine Towers
Image credit:
Harald Hubrich / CC BY-SA 3.0
Read user Insights about Towers, Masts, and Poles