Electrical Safety Testers Information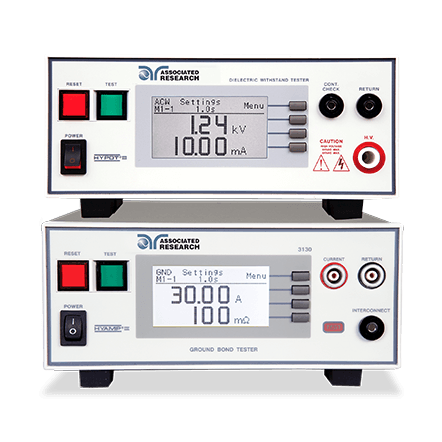 Electrical safety testers are instruments used to test diverse electrical safety such as testing outlet polarity, line voltage level, ampere rating, medical equipment, and others. These instruments can be used for many different types of measurements including AC or DC dielectric strength, insulation resistance, grounding systems resistance, earth continuity, AC or DC hipot, outlet polarity, line leakage, and appliance testing. Electrical safety testers may also be used for other measurement applications.
Types
Dielectric testing, insulation resistance, and grounding systems resistance use electrical safety testers.
AC or DC dielectric testing measures the withstand capability of an insulator.
Insulation resistance electrical safety testers measure the resistance of insulators or insulation.
Grounding systems resistance testers measure the resistance of grounding systems for construction projects, roads, telecommunication towers, and more.
Applications
Electrical safety testers are also used to measure earth continuity, hipot testing, and outlet polarity. Earth continuity devices test electrical and electronic instruments and appliances. Substandard electrical instruments that fail can transfer dangerous current to users if not tested properly. AC or DC hipot electrical safety testers are capable of testing AC or DC hipot (high voltage) and the amount of AC or DC electrical insulation in electrical devices.

Line leakage and appliance testing also use electrical safety testers. Line leakage testing is done to ensure that a product tests to standard agency specifications. Appliance testing is used to test home and office appliances.
Specifications
Electrical safety testers are available in free standing, bench top, rack mount, portable, and handheld models. There are also different display options, including analog meters, digital meters, and light-emitting diode (LED) indicators. Additionally, electrical safety testers are available with different interfaces. Interface options include general-purpose interface bus (GPIB), RS232 or ANSI 232, printer port interfaces, scanner port interfaces, and print out. Additional display and interface options may also be available.
Standards
Electrical safety testers must meet the standards of different safety agencies, including European conformity CE mark, the Canadian Safety Agency (CSA), the International Electrotechnical Commission (IEC), the Institute for Interconnecting and Packaging (IPC), Underwriters Laboratory (UL), and the VDE cable mark. Other safety requirements may also be required for electronic safety testers.
Related Information
CR4 Community—Alternatives to Hipot Testing
CR4 Community—When Should a Hipot Test be Performed?
IEEE Spectrum—Down to the Wire
Image credit:
Read user Insights about Electrical Safety Testers