Wire and Cable Strippers Information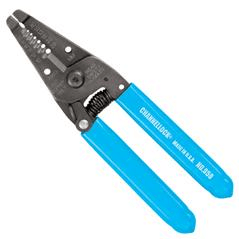 Cable and wire strippers are devices used to remove sections of insulation from underlying wires and prepare cables
for installation. Stripping is an important process and allows the conductor to be terminated or spliced. Strippers are usually meant for a certain range of wire gauges. Handheld and benchtop models are available, and their actuation determines their productivity.
Strippers have jaws with at least one void between opposing blades. Manual strippers with one cutting notch rely on the operator to accurately slice the insulation, and then rotate the tool to complete the cut. Strippers with several cavities will accommodate several wire gauges, and complete a full incision upon compression. The insulation can be removed easily and the conductor can now serve as an electrical workpoint. Some dies are meant for general purpose, and are capable of stripping several gauges or wire types. Some individuals may elect to strip wires with nonspecific tools such as pen knives, pliers, razors, or pencil sharpeners. While these tools are effective, probable wire damage and longer operation intervals result in reduced productivity and quality, and will be insufficient when stripping large quantities.
An alternative to shearing cable insulation is chemical stripping. Stripping pots are heated, solvent-induced methods of removing the insulation from wires. They are capable of removing polyvinyl, polyurethane, nylon, polyimide, and polyamine insulations from copper and aluminum wire. Stripped wires are rinsed in water and metal cleaners after this procedure.
Cable and wire strippers come in a variety of designs to support the diversity of their usefulness. Handheld designs are most convenient and inexpensive, but benchtop varieties are manufactured to assist in high-volume stripping applications. Articulation of the stripper ranges between manual, electrical, and pneumatic power sources.
Video credits: Electronics How To / CC BY-SA 4.0
Cutting Style
There are several variations of cutting methods for blade-bearing stripping tools. The most common method of wire stripping is a clamping die that separates a segment of insulation. Stripping wheels rely on high-speed wire or fiberglass wheels to abrade the wire insulation, and are durable enough for heavy-gauge wire; these are exclusive to benchtop designs. Finally, designs that utilize a rotary blade to strip ends are available. Neither abrasive wheels nor rotary blades require exchange for different wire sizes—wire guidance and cutting depth is adjustable.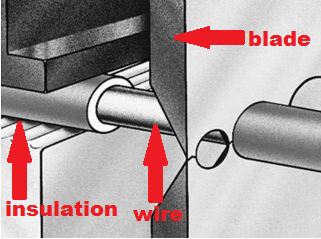 Image credit: Ideal Industries | Video credits: Wey Hwand, Carpenter MFg. / CC BY-SA 4.0
Operational Manner
| | |
| --- | --- |
| Handheld, squeezed wire strippers are instruments that rely on the operator to apply a shearing force. Many types require the operator to size the stripper according to the wire gauge, but varieties with self-adjusting blades are very useful. Another variety of manual strippers include a heating element to soften the insulation. Ensuring a correct strip requires knowledgeable operation, and this compact design is best suited for low-volume stripping. | Image credits: Fluke Corp.; Rapid Electronics Ltd.; Grainger |
| Benchtop, hand-operated strippers are precision stripping devices with interchangeable dies. Often custom blades are available, and these strippers are best intended for medium-volume stripping in workshop environments. | Video credit: The Eraser Co. via Youtube |
| Electric-powered wire strippers are almost exclusively bench-mounted. Some models offer handheld tooling tethered to a fixed-speed power supply. Large models with high production rates are usually standalone systems with some automation. These tools have interchangeable dies and are good for professional stripping applications at medium-to-high volumes. | Image credits: Martindale Co.; Series 4 Ltd. |
| Pneumatic wire strippers function by the means of pressurized air, often with the use of a foot or hand switch, or sensor to control the speed of wire stripping. A short cycle time means these are an excellent choice for large-volume production with gauged electrical wire. | Image credits: Ideal Industries Inc.; Schleuniger |
| Chemical stripping pots heat a solvent (typically sodium hydroxide) to a temperature of up to 1,000° F. This method is suitable for stripping wires that may be knotted or mangled, and is an efficient stripping method when closely monitored. | Video credit: The Eraser Co. via Youtube |
Wire Types
Wires differ based on the application, and dies and shearing methods fluctuate accordingly. Abrasive wheels and rotary blades are exchanged depending on the type of wire used, though they are usually able to accommodate many sizes of the same wire type. The most common wire types are:
Stripped Wire Precautions
The quality of a stripped wire is largely determined by the quality of the tooling selected. Properly-sized tools are the easiest way to provide a high-quality exposed conductor, and many wires are required to be labelled with gauge information. Another determination of wire quality includes the strip length. Devices like switches and receptacles will have a strip gauge, and automated machines will have a clear adjustment mechanism to ensure accurate wire and strip lengths.
Wire strips that are too short will have an insecure connection, possibly leading to overheating, arcing, and a loss of circuit; conversely, overexposed conductors pose an electrocution risk. A significant danger results from conductors that are damaged in the stripping process. Temperature changes of the conductor will cause cracks along nicks and scratches. The same current level will be carried through a smaller wire cross-section, resulting in overheating. Finally, wire damage like frayed (from dull blades) or compressed (from mismeasurement) insulation will adversely affect wire performance as well.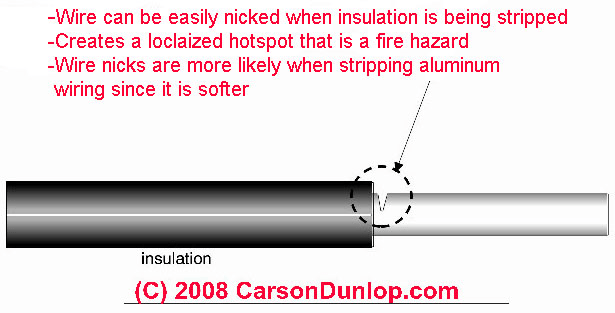 Image credit: Carson Dunlop; Zeus Inc.
Standards
A selected assortment of standards regarding the use of cable stripping tools and the insulation of conductors is listed below.
SAE AS5768/1 -- Manual, insulation stripping tools AWG 10—30
SAE AS5768/2 -- Manual, insulation stripping tools AWG 16—30
SAE AS5457 -- Aerospace standards for handheld strippers
ASME B107.37 -- Pliers/wire strippers
NEMA-27500 -- General specifications for electrical cable
MIL 16878 -- General specifications for insulated electrical wire
Resources
IPC - The Seven Sins of Wire Harness Assembly (.pdf)
Ask-the-Electrician - Wire Stripping; Wire stripping guidelines
Image credit:
Channel Lock