Cable Glands Information

Show all Cable Glands Manufacturers
Cable glands are bulkhead modules that allow barrier penetration while providing sealing protection. They are commonly known as sealing glands or strain reliefs and have the ability to seal around one or multiple wires, cables, or probes. Cable glands are sometimes configurable to work with any cable within a specified size range. They serve several functions including environmental protection (such as protection against dust and moisture) and additional sealing on the part of the cable entering the enclosure. They are able to facilitate earth continuity in the cases of armored cables, and provide a holding force on the cable to ensure adequate levels of cable pull out resistance. Cable glands can be used on all types of electrical power, control, instrumentation, data and telecommunications cables.
When selecting a cable gland there are several steps to take in order to ensure the proper cable glad is used in the application. The first step is to identify the type of cable to be used and then check the construction, size, and material properties of the cable.
Specifications
Important specifications to consider when searching for cable glands include cable diameter, mounting hole diameter, and adjustable diameter.
Wire hole diameter is the maximum diameter of a cable or wire. This should be large enough to house all the cables in the system.
Pressure rating denotes the amount of pressure a device can withstand without leakage.
The number of wires the assembly can accommodate is important to consider.
Cable diameter specifies the diameter of the cable that can be fed through the cable gland.
Mounting hole diameter refers to the diameter of the barrier or bulkhead hole into which the gland is to be installed.
The adjustable diameter is the diameter the cable gland can be adjusted to fit various sizes of cable.
Mounting Options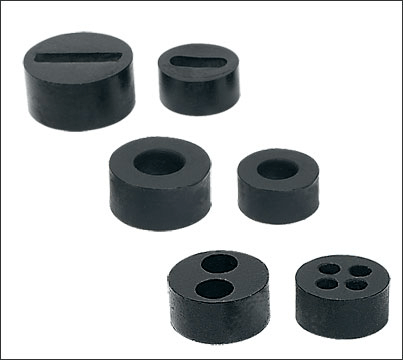 Cable gland mounting should be chosen based on the pre-existing connections in the system. Choices for gland mounting include adhesive or compound, flanged or bolted, threaded or nut mount, welded, and cast.
Materials of Construction
Material is a very important specification when selecting a cable gland. The common material types available are aluminum, nylon, PTFE, steel, and stainless steel. The material should be strong enough to perform for the required time in the application. It should also be compatible with the cable material to prevent corrosion, excessive wear, or damages.
Features
There are several features for cable glands including:
Fire-stop cable glands are designed to withstand fire propagation through a barrier.
Explosion proof cable glands are designed for some level of explosion safety.
EMI and RFI shielding and associated grounding features are used to minimize or eliminate electromagnetic (EMI) and radio frequency interference (RFI).
Romex connections are specifically-designed to retain and sometimes seal around romex cable as it enters a junction box or enclosure.
Wire mesh is added to connectors to provide additional strain relief.
Liquid tight cable glands provide protection against the ingress of penetrating water, oils, and other liquids.
Applications
Common applications for cable glands include aerospace, cleanroom, fire protection, industrial, marine, panel or enclosure, power or utility, railway, and telecommunications.
| | |
| --- | --- |
| Application | Description |
| Aerospace cable glands | Designed and rated for use on aircraft or space vehicles and/or equipment; may include applicable approvals for military and/or aircraft use. |
| Cleanroom cable glands | Suitable for use in a cleanroom environment with the associated properties of maintaining positive pressure, prevention of dust and fluid ingress, etc. |
| Fire protection glands | Designed and rated for prevention of fire propagation across the bulkhead or barrier. |
| Industrial glands | Used in industrial environments such as factories, process plants, mills, etc. |
| Marine glands | Designed for application on ships, offshore mining and drilling settings, or other marine applications. |
| Panel or enclosure cable glands | Specifically designed and rated for penetration into electrical panels and/or electromechanical assembly enclosures. |
| Power and utility glands | Designed for use with public utility equipment such as power transmission, distribution, and high voltage equipment. |
| Railway glands | Designed for use on trains and associated installations. |
| Telecommunications glands | Designed for used with communications cable or conduit. |
Resources
CMP Products - Introduction to Cable Glands
Image credit:
Appleton | Digi-Key | Prism Control Gear | Legrand
---
Related Products & Services
Cable Transits

Cable transits are bulkhead or barrier modules that allow electrical cables to pass through, while providing various levels of sealing, strain relief, and damage protection, depending on the application requirements.

Pipe Transits

Pipe transits are bulkhead or barrier modules allowing pipe, tubing, or other conduit to pass through, while providing various levels of sealing, strain relief, and damage protection, depending on the application requirements.