Environmental Test Chambers and Rooms Information
Definition
Environmental test chambers and rooms are used to ensure the reliability of industrial products, especially electronic items, through prolonged exposure to one or more environmental parameters. They provide heating and/or cooling and often include an analog meter, digital readout, or video display with test results.
Some environmental test chambers and rooms subject samples, components, or products to extreme temperatures, thermal cycling, or extreme humidity. Others monitor emissions from devices such as internal combustion engines under carefully controlled conditions. Chambers for the electro-dynamic and mechanical vibration testing of machinery are available. Environmental test chambers and rooms that measure corrosion monitors the effects of variables such as heat, humidity, salt fog, salt spray, and rain spray.

Performance Specifications
Parameters used to specify the performance of environmental test chambers and rooms include temperature range, temperature control accuracy, humidity range, humidity control accuracy, and chamber capacity.
Temperature range and humidity range are full-scale values.

Temperature range accuracy is measured in degrees or as a percentage of a full-scale output or reading.

Humidity control accuracy is expressed as a percentage.

Chamber capacity is the volume of the chamber that is available for testing the product.
Types
Chambers and rooms are designed for desktop, tabletop, or work bench applications.

Free standing and chambers with hardware for floor-mounting are available.

Reach-in chambers provide a window that users can open to handle test contents.

Walk-in chambers include a full-size door.

Environmental test rooms and laboratory-scale environmental test chambers are commonly available.
Interface
Selecting environmental test chambers and rooms requires an analysis of user interface options.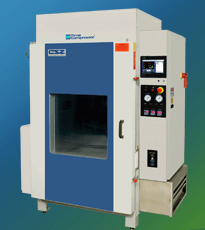 Chambers with front panels include inputs such as keypads, dials, and switches for adjusting ranges and controlling parameters.
Analog devices include a needle or simple visual indicator.
Digital readouts provide alphanumeric displays.
Cathode ray tube (CRT) and liquid crystal display (LCD) devices are available.
Environmental test chambers and rooms that include a programmable logic controller (PLCs) provide signals to the PLC, or receive inputs from the PLC.
Programmable chambers often include a computerized interface and application-specific software for remote monitoring.
Networked and web-enabled environmental test chambers and rooms are also available.

Output Options
Outputs for environmental test chambers and rooms include analog voltage, analog current, pulse signals, switches or relays, and radio signals.
Analog voltage outputs are a linear function of the measurement.

Analog current outputs are used to send signals over long distances.

Pulse signals include frequency or modulated frequency outputs such as sine waves, pulse trains, amplitude modulation (AM), and frequency modulation (FM).

Environmental test chambers and rooms that output state changes to switches are often used with logic circuits or to activate an alarm.

Devices that send radio transmissions to a host computer often include a data recorder.
Standards
BS EN 60068-3-5 - Supporting documentation and guidance - confirmation of the performance of temperature chambers.
IEC 60068-3-11 - Documentation demonstrating how to estimate the uncertainty of steady-state temperature and humidity conditions in temperature and humidity chambers.
Resources
Image Credit: Thermotron Industries | Cincinnati Sub-Zero