Industrial Homogenizers Information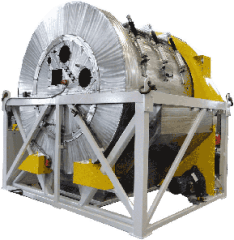 Industrial homogenizers are high-speed, high-shear mixers that reduce samples to a uniform-size through maceration, cutting, and blending. They are used to process liquids, slurries, or granular substances.
Specifications
Product specifications for industrial homogenizers include:
media viscosity
capacity
feed rate
motor speed
motor power
pressure range
operating temperature
Viscosity is a measure of a fluid's thickness. Capacity is the volume of product that an industrial homogenizer can accommodate. Feed rate measures product flow over a given period of time. Media characteristics such as pH concentration and specific gravity are also important considerations. Some industrial homogenizers include an integral heating or cooling element. Others are intrinsically safe, explosion proof, or designed for sanitary applications.
Types
There are three basic types of industrial homogenizers: fluidized bed, rotor-stator, and ultrasonic.
Fluidized-bed homogenizers are durable vessels that fluidize the complete product bed. Efficient and thorough, these laboratory homogenizers can achieve relatively fast rotational speeds, but require higher levels of applied horsepower (hp).
Rotor-stator homogenizers are single-shaft mixers with an impeller that rotates in close proximity to a stationary housing. The rotor imparts high shear forces mechanically while the stator directs the flow.
Ultrasonic, or vibrational, homogenizers apply ultrasonic waves in a mixed medium to produce a steep gradient of acoustical pressure and, therefore, fluid movement and a very-fine level of mixing action. Though inaudible to the human ear, these ultrasonic waves are capable of exerting pressures of more than 500 atmospheres (atm) and achieving temperatures of 5,000° C.
Applications
Industrial homogenizers differ in terms of applications and additional features. Industrial homogenizers can be used in a variety of applications including the processing of adhesives, chemicals, construction materials, cosmetics, food and beverages, ore or minerals, paint or coatings, paper or pulp, plastic, pharmaceuticals, sanitary applications, water or wastewater, or other industrial applications.
Features
Additional features offered for industrial homogenizers include internal heating or cooling elements, a magnetic drive, non-stick lining or coating, a timer, programming options, explosion-proof housing, and interchangeable or disposable rotors. Also, additional capabilities for homogenizers include extruder feed and coating, drying, milling, or granulating options. Other additional features or capabilities for industrial homogenizers may also be available.
Related Information
CR4 Community—Sources for Old Manuals?
CR4 Community—Tips or Procedures to Mix PTFE Powder with Bronze Powder
Electronics360—LED Lighting Improves Taste of Milk
Image credit: