Control and Instrumentation Cables Information
Instrumentation cables are multiple conductor cables that convey low energy electrical signals used for monitoring or controlling electrical power systems and their associated processes. The functions of measurement and control are vital in manufacturing and processing applications. These functions are greatly dependent on their electronic circuitry. Typical applications include industrial equipment control, broadcasting, assemble equipment, or mass transit systems.
Types
The Engineering360 SpecSearch database allows industrial buyers to source cables based on the following computer network types and industrial protocols.
ARCNET cables are used in high-speed, token-based, ARCNET networks that provide local area network (LAN) communications between industrial computers.
AS-I cables are used to interface binary actuators, sensors, and other AS-i devices. These two-core cables supply power and transfer data.
CANbus cables are used in high-speed, serial data networks that are designed for harsh electrical environments. They are used widely in the automotive industry.
CANopen cables are used with an industrial communications fieldbus protocol that is based on CANbus.
DeviceNet cables also use the controller area network (CAN) protocol, but typically connect devices such as limit switches, photoelectric cells, valve manifolds, motor starters, drives, and operator displays to programmable logic controllers (PLCs) and personal computers.
Fieldbus cables are used to connect industrial devices such as actuators, sensors, transducers, and controllers. In the hierarchy of plant networks, the fieldbus environment is the base level group.
Foundation Fieldbus cables are used in an all-digital, serial, two-way communications system that serves as a LAN for plant instrumentation and factory control devices.
HART cables allow communications without interrupting a 4-20mA signal. They allow a host application (master) to get two or more digital updates per second from a field device.
PROFIBUS cables use a vendor-independent fieldbus standard that is suitable for both process automation and manufacturing applications.
P-Net cables conform to a European standard (EN 50 170 Vol. 1) that is now part of the International Fieldbus Standard (IEC 61558 Type 4).
Buyers can also source power cordage and multiconductor cables that do not adhere to a specific network type or communications protocol.
Power cordage cables are used mainly in low voltage, commercial, and domestic applications. They are used to produce power cords, but do not include the end connectors.
Multiconductor cables consist of a single wire or a combination of wires with two or more conductors. They include cable shielding.
Conductors
A cable conductor consists of a wire or combination of wires that are not insulated from each other, and facilitate the passage of electric current through the cable. Conductor-related specifications include material, size, and number of conductors.
Conductor material includes various conductive metals. Copper is the most widely used material, and features excellent corrosion resistance and high thermal conductivity, but relatively low strength-to-weight ratio. Aluminum is less dense than copper, and is often used as a power conductor. Cable conductors may also be made of steel and clad with an aluminum or copper shell.
Conductor size is measured in American Wire Gauge (AWG) in the United States. The higher the gauge number, the smaller the diameter and thinner the wire. Thicker wires have less resistance and are able to carry more current. Outside of the U.S., conductors are measured in mm2.
Number of conductors is usually determined by the cable's application or intended use.
Jacket and Insulation
Suppliers manufacture cable using a variety of jacket and insulation material in order to reduce the leakage of current from the conductor. The cable's application is an important consideration when selecting insulation material.
Ethylene Propylene Diene Elastomer (EPDM) provides excellent flexibility over a wide temperature range.

Neoprene is a synthetic rubber well-suited to chemical applications. It is resistant to oil, flames, and chemicals.

Silicon rubber provides superior flexibility but lacks toughness and fluid resistance.

Thermoplastic is an excellent insulating material. Polyethylene (PE), polyproplyene, polyvinyl chloride (PVC), Teflon®, and Tefzel® are types of thermoplastic material. While each material has its own unique advantages and disadvantages, most are highly flexible and provide resistance to moisture or chemicals.

Mica tape is specific to insulation material, and features a very high temperature resistance.
Shielding
Control and instrumentation cables may feature a type of electromagnetic shielding material, which is wrapped around the cable underneath the outer jacket. Shielding serves to prevent electrical noise from affecting the transmitted signal, and to reduce electromagnetic radiation emission from the cable itself. Shielding is typically comprised of metal braiding, metal tape or foil braiding. A shielded cable assembly may also feature a special grounding wire known as a drain wire.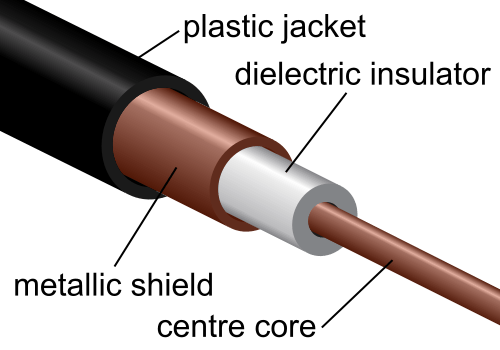 Cutaway image of a shielded cable. Image credit: Tkgd2007
References
Alpha Wire - Understanding shielded cable
Gore - Impact of materials on microwave cable performance
Gore - Selecting the right cable system for your environment
Image credit: National Instruments