USB Cables Information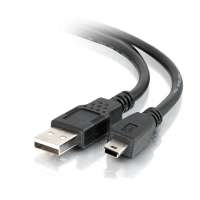 USB cables are designed specifically to connect devices that use the universal serial bus (USB) protocol. They are used to connect personal computers (PCs) and peripherals such as mice, keyboards, printers, digital cameras, and mass storage devices. USB cables are also used in factory environments, sometimes with a locking mechanism, for connecting USB industrial I/O devices to computers.
The USB specification was designed for desktop environments and limits the length of cables to 5 meters (m) between full-speed devices and 3 m between low-speed devices. To connect a PC to a USB device over longer distances, USB hubs can be connected serially with 5 m cables. USB bridges are often used for direction connections between the USB ports of two PCs.
Types
USB cables are generally organized according to the USB version that they support. Most suppliers offer three types of cables.
USB 1.1 cables support data transfer rates up to 12 megabits per second (Mbps).
USB 2.0 cables support data transfer rates up to 480 Mbps.
USB 3.0 cables support data transfer rates of up to 5.0 Gbit/s.
Cables for the original USB version (1.0) are also available from suppliers.
In addition to USB version, buyers select USB cables based on connector type. The GlobalSpec SpecSearch database provides information about these types of products.
USB Type A connectors have a flat, rectangular interface. They provide 5 VDC power on one of the pins and are designed for connections with host controllers and hubs. USB cables with Type A adapters on both ends are not designed for direct connections between computers, or between a PC and a USB hub. Rather, A-A cables should be used to connect USB devices with an A-style female port to a PC or another USB device.
USB Type B connectors are square-like in shape and have two slightly beveled corners. They are designed for use with peripheral devices.
USB Mini-A connectors are miniaturized Type A connectors that are 3 mm x 7 mm in size. They are used with small devices such a cell phones and digital cameras.
USB Mini-B are miniaturized Type B connectors that are 3 mm x 7 mm in size. They are available in 4-pin and 5-pin versions. The USB On-The-Go standard specifies the use of 5-pin USB Mini-B connectors to allow peripheral devices to communicate with a host controller. The 4-pin is unofficial, but used with many digital cameras.
USB Micro-A connectors are white, 5-pin devices. They are used mainly with newer mobile devices. Micro-A connectors are smaller than Micro-B connectors, but still support high-speed data transfers of 480 Mbit/s and USB On-The-Go technology.
USB Micro-B connectors are black, 5-pin devices. They are larger than Micro-A connectors, but offer the same data transfer capabilities.

USB connectors. Left to right: Micro-B, ExtUSB, 5-pin Mini-B, Type A female, Type A male, Type B male. Image credit: Viljo Viitanen
Application
USB cables may be also grouped by application. The application may determine the cable's dimensional specifications, as well as its end connectors and approvals and certifications. Suppliers offer USB cables for audio / video (A/V), automotive, imaging, medical, radio frequency (RF), and telecommunications applications. There are also cables for personal computers (PCs), local area network (LAN) and Ethernet applications, and industrial control and instrumentation systems. Cordage and extender cables are types of USB cable which may suit a variety of applications.
References
Image credit: Cables to Go