Drain Valves Information
Drain valves remove media from process lines and process or storage tanks. They are used in applications such as compressed air systems where liquid, gas, or slurries need to drain or be drained from the system. Drain valves employ a number of different technology types—including pneumatic, electric, thermostatic, and manual handles or wheels—depending on the application. Most importantly different valve technologies are used over others based on the media application so that they do not fail or clog.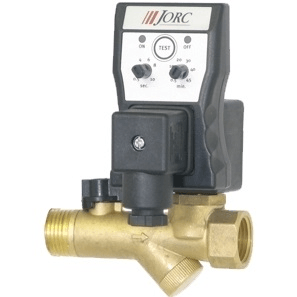 Drain valves find use in fully automated systems to manual applications. Materials of construction include plastics and metals.
Types
Electronic drain valves consist of a solid-state timer, solenoid valve, and protective housing. They differ in terms of timer specifications, valve specifications, and available features. Timer specifications for electronic drain valves include interval time, discharge time, supply voltage, current consumption, operating temperature, housing material, and connection type. Typically, electronic drain valves have a valve body made of forged brass or stainless steel. Electronic valve insulation may be Grade F or Grade H. Grade F insulation is industry standard, and by comparison Grade H provides superior temperature-resistance and longer life.
Motorized drain valves consist of a valve that is connected to a gear motor with a coupling. This design reduces the possibility of misalignment and minimizes the chance of premature valve failure. For protection against corrosion, glass-reinforced seals and steel balls and stems are used. Product specifications for motorized drain valves include interval time, discharge time, supply voltage, operating temperature, maximum pressure, and connection type.
Applications and Standards
Two of the most common applications for drain valves are to remove condensate from compressed air systems and steam process lines. Drain valves are commonly used to remove the condensate on either a timed schedule or automated based on the level of condensation.
Drain valves are manufactured and tested in accordance with national, international, and non-governmental standards. Often, products bear designations such as the CE Mark or the UL Mark. The European Union (EU) requires CE marks for electronic drain valves and electric drain valves that will be sold, or put into service for the first time anywhere in the European community. Drain valves with marks from Underwriters Laboratory (UL) are also available.
Image credit: