Thermal Insulating Tapes Information

Show all Thermal Insulating Tapes Manufacturers
Selecting Thermal Insulating Tapes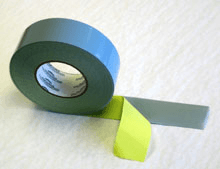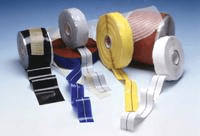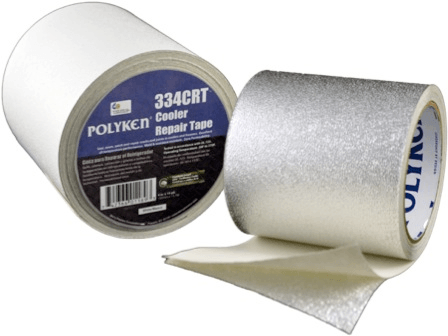 Image credits: Saint-Gobain Performance Plastics | Arlon LLC | Berry Plastics Corp.
Thermal insulating tapes consist of porous foam or cloth backing materials, which provides a thermal barrier around or between components. These tapes are manufactured with a variety of backings and adhesives suited to a wide range of applications.
Thermal Insulating Tape Applications
Cold water or refrigeration tubing and piping systems: Foam tapes are commonly used as wraps to prevent water condensation or frosting on the system lines. Hot water lines are sometimes insulated with foam or cloth tape to reduce heat loss (image on left below).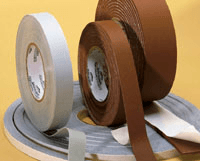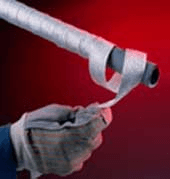 Image credits: Saint-Gobain Performance Plastics | 3M
High temperature applications: Fiberglass cloth insulating tapes are used in applications such as wrapping hot industrial process piping or automotive muffler tail pipes. Ceramic cloth insulating tapes are used in specialized industrial applications with even higher temperatures (image on right above).
Fireproofing: Intumescent tapes are used in fireproofing applications. Intumescent tapes expand and produce foam char, which insulates and protects the underlying surface from additional fire damage.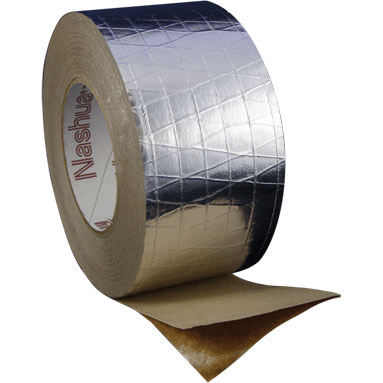 Image credits: 3M | Berry Plastics
Heat shielding or reflection: Thermal insulating tapes with foil or metallized plastic film can provide heat shielding or reflect radiant heat. In some thermal insulating tape constructions, an inner foam or fiber core is covered with a metal sheet or foil jacket. The metal sheet provides protection against mechanical damage and can reflect thermal radiation as well.
Properties of Thermal Insulating Tapes
The proposed use of thermal insulating tape determines which properties are relevant to the selection process. For descriptions of the properties listed below, consult the Adhesive Tapes Area Selection Guide and the Industrial Tapes Area Selection Guide.
Performance Characteristics
Dielectric strength

Electrical resistivity

Peel strength/adhesion

Standards compliance

Temperature resistance

Water vapor permeability

Tensile strength
Materials of Construction
Backing
Cloth/woven fabric

Glass/fiberglass

Fluoropolymer

Foam

Metal foil/sheet
Adhesive
None/non-adhesive

Acrylic

Pressure sensitive

Rubber

Silicone

Specialty/other
Size
Features
Abrasion resistance

Anti-static/ESD control

Dielectric/insulating

Electrically conductive

EMI/RFI shielding

Permanent or removable

UV/weather resistant
Standards for Thermal Insulating Tapes
Several different organizations set standards for thermal insulating tapes. ASTM International promulgates voluntary, consensus standards and technical information that, among other purposes, measure the reliability of materials and products. Industries and military organizations routinely require that products meet their own standards before the organization will purchase them.
Relevant ASTM standards:
Standard for Elastomeric Cellular Thermal Insulation
Thermal Insulation for Piping and Machinery
Terminology Related to Thermal Insulation
Industry and military standards:
SAE AMS3779A: Tape, Adhesive, Pressure-Sensitive Thermal Radiation Resistant
ARMY A-A-59258 Valid Notice 1: Tape, Aluminum Foil, Heat Reflective, Pressure Sensitive Adhesive
Navy MIL-C-20079H: Cloth, Glass; Tape, Textile Glass; and Thread, Glass and Wire-Reinforced Glass
NAVISTAR TMS 6614: Piping Insulation