Isolation Transformers Information
Isolation transformers provide electrical isolation to two connected circuits. Electrical isolation of two circuits in important for several reasons.
Safety is a primary use for isolation transformers. By isolating an electrical device from connected mains power, the transformer protects the device in relation to grounded objects which may be hazardous around high voltages. A tester working with a non-isolated electrically live device is at high risk for becoming an Earth ground and conducting high voltages through the body, resulting in severe burns or death.
As described below, some isolation transformers step voltages down to render the current or signal safer, but others simply provide 1:1 isolation. For example, a 1:1 isolation transformer that accepts 120 VAC will also output 120 VAC. The importance regarding safety is that, despite the high voltage still flowing through the secondary coil, isolating the transformer's second coil prevents a pathway to the primary coil through the ground, reducing the likelihood of severe shock. It is important to note that while touching a single live conductor of an isolation transformer is not inherently dangerous, touching both live coils with bare skin may still result in electrocution.
Electrical noise reduction is another main use for isolation transformers. The Faraday shields used to isolate a transformer's coils naturally help to block electric fields from interrupting current flow, thereby reducing electromagnetic interference on the signal line. Faraday shields also reduce the potential for current leakage, resulting in better power quality and device efficiency.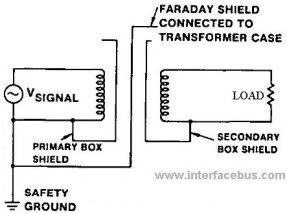 A Faraday shield (and additional shielding) between two isolated coils.
Image credit: Electronic Engineering Dictionary
Isolation transformers are typically constructed using heavy duty shields and insulation between coils to effectively prevent arcing and electric shock, and may also feature heavy duty ruggedized metal housing to further increase safety.
Types
Isolation transformers can be specified by type, and further classified by winding arrangement, construction, or alternating current (AC) power type.
Winding
While some isolation transformers produce output voltage which is identical to their input - known as 1:1 transformers - others feature proportionately wound coils to allow multiplication or division of the input voltage. Of these types, step up transformers produce output voltages greater than their input, while step down devices produce smaller outputs relative to their input.
The two images below illustrate examples of step up and step down transformers. Note that in both cases the output voltage varies proportionately to the number of coil windings. For example, because the step down transformer's secondary coil winding is at a 1:5 (or 1/5) ratio to its primary winding, the output voltage will be 1/5 the voltage of the input. For this reason, the buyer may want to specify the number of windings for the primary and/or secondary coil. It is also important to note that, while these two transformers alter the output voltage and current relative to the number of windings, the power (in watts) remains constant across the two circuits.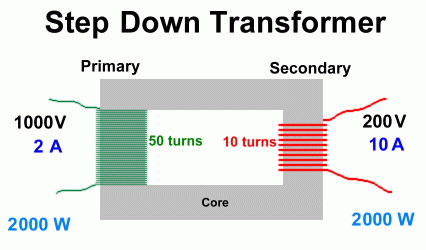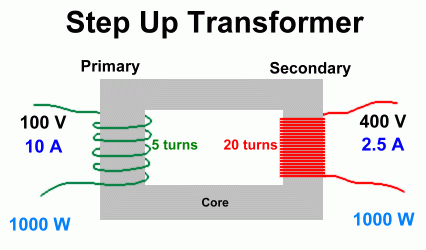 Image credit: Worsley School
Specialized variable transformers, also known as variacs, are produced with a knob or other control to enable variable output voltage.
Phase
Isolation transformers may be manufactured to be compatible with single-phase or three-phase AC power.
Single-phase power refers to AC systems where voltages fluctuate in unison. Single-phase AC is cheap to install and operate but is not powerful enough to supply large motors and other industrial equipment. Three-phase power uses three different signals which peak at varying times. Using three separate signals eliminates the fluctuations inherent in a single-phase system. When used to power large motors, three-phase power results in less vibration and simpler equipment design.
The images below show single-phase (left) and three-phase AC waveforms.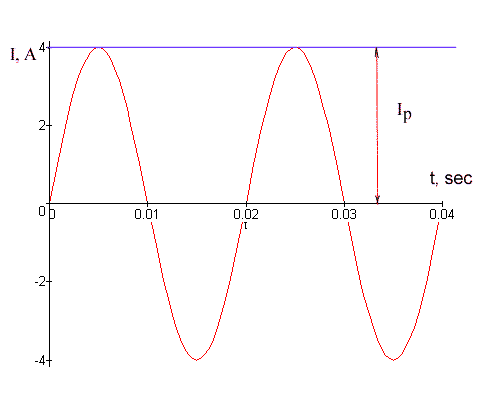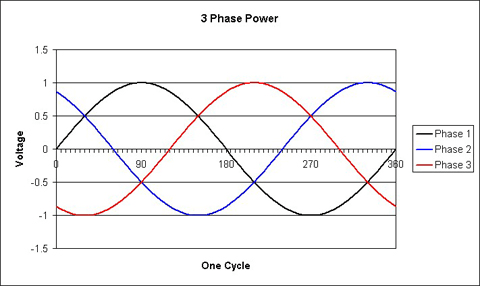 Image credit: The Science Forum | Power Products
Specifications
Standards / Approvals
Isolation transformers may be manufactured to various quality standards. This is especially important for medical transformers, as medical device failure may have fatal consequences when used in hospitals and other medical applications.
Standards for medical transformers include:
General transformer standards include:
UL 1411

(Transformers for audio, radio, and television applications)
NEMA
Isolation transformers may feature enclosures that are rated by the National Electrical Manufacturers Association (NEMA). NEMA enclosures are rated based on their ability to protect against dust, water, and light.
The following table defines some common NEMA ratings.
| | | | | | | | | |
| --- | --- | --- | --- | --- | --- | --- | --- | --- |
| Rating | Indoor | Outdoor | Rain/Water | Dust | Ice | Dirt | Submersion | Chemicals |
| 1 | x | | | | | x | | |
| 2 | x | | x | | | x | | |
| 3 | | x | x | x | x | | | |
| 4X | x | x | x | x | x | | | x |
| 5 | x | | | x | | x | | (Noncorrosive) |
| 6 | x | x | x | | x | | x | |
| 12 | x | | x | | | x | | (Noncorrosive) |
| 13 | x | | x | x | | | | x |
Table source: Rugged PC Review / nema.org
References
All About Circuits - Electrical Isolation