Rotary Tables Information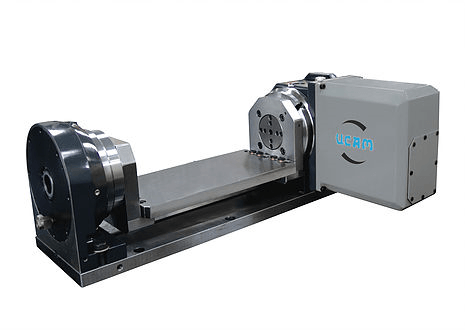 Rotary tables are used for precision metalworking. They are typically made with a solid base that can be clamped on to another fixture. The table is a disc that rotates freely or by use of a worm (hand crank).
Applications
Rotary tables are utilized in:
machining applications
automation applications
assembly applications
equipment positioning
assembly positioning
Specifications
Important specifications to consider when selecting rotary tables include:
worktable diameter
through-hole diameter
maximum axial load
maximum radial load
table rotation speed
minimum indexing increments
The worktable diameter refers to the surface area of a rotary table. The through-hole diameter is the breadth of the hole in the center of the workstation. The maximum axial load is the heaviest amount that a rotary table can support when a load is pushed against the face, while on its vertical or horizontal axis. The maximum radial load is the greatest weight that rotary tables can bear during concentric operations. Rotary tables are designed to reach a maximum table rotation speed that is set by the manufacturer. The minimum indexing increment is the smallest angle setting on rotary tables.
Mounting styles for rotary tables can be horizontal, vertical, or inverted. With horizontal mounting, the table surface is in a flat, upright, horizontal position. With vertical mounting, rotary tables are mounted so the rotary table surface runs up and down. In inverted mounting, the rotary table can be upside down in the horizontal position.
The drive location of rotary tables may be dependent on the mount; drives can be placed behind, below, top mounted, or on the side. When they are mounted horizontally, top-mounted drives for rotary tables are located above the table surface. Side-mounted drives are located to the side of the table surface when rotary tables are mounted horizontally. The drive mechanism for rotary tables can be manual, electric, pneumatic, hydraulic, or no drive. For manual rotary tables, the table is loosened and manually turned with a crank.
Features
Additional features available for rotary tables include four-axis motion, five-axis motion, brakes, collet spindles, position encoders, programmable CNC controlling, tilting table, indexing, T-slots in the faceplate, and multiple spindles.
Related Information
CR4 Community—How to Calculate Rotary Table Position Accuracy
Image credit: