Thermoset Adhesives Information
Thermoset adhesives are crosslinked polymeric resins that are cured using heat and/or heat and pressure. They represent a number of different substances that undergo a chemical reaction when curing, such that the structure formed has superior strength and environmental resistance. Despite their name, thermosets may or may not require heat to cure and may instead use irradiation or electron beam processing. Due to their superior strength and resistance, thermosets are widely used for structural load-bearing applications; they also tend to be more expensive than other adhesives for this reason.
Thermoset adhesives are available as one- or (more commonly) two-component systems. One component systems use heat curing and require cold storage for sufficient shelf life. Most one component adhesives are sold as pastes and applied by a trowel to easily fill gaps.
Two component systems must be mixed and applied within a set time frame, ranging from a few minutes to hours. Two component epoxies are suitable for bonding nearly all substrates and feature high strength and chemical resistance as well as excellent long-term stability. Despite these superior characteristics, two component systems are often avoided in favor of one component ones due to the latter's easier use and storage requirements.
The image below shows a thermoset compound cross-linking as heat is applied.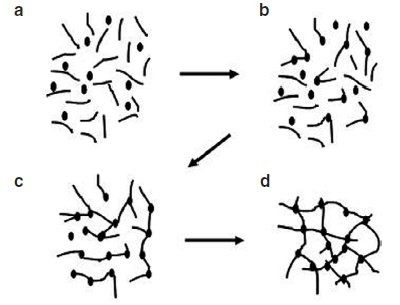 Image credit: American Laboratory
Specifications
Substrate Material and Systems
Common thermoset adhesive materials include epoxy resin, phenolic formaldehyde (PF) resins, phenolic neoprene, resorcinol formaldehydes (RF), polyesters, and polyimides. The table below details some of these common materials and the substrates they effectively bond to.
System

Material Compatibility

***

Ceramic

Concrete

Metal

Plastic

Porous

Rubber

Textiles

Wood

Phenol PF

x

x

x

x

RF

x

x

x

x

Polyester

x

x

Polyimides

x

Epoxies

x

x

x

x

x

x

x

Redux adhesive

x

x

x

x
Table credit: RoyMech
For more detailed information about adhesive and sealant materials and substrates, please visit Engineering360's Industrial Sealants Specification Guide.
References
American Laboratory - Thermosets: How to Avoid Incomplete Curing
AZOM - Thermosetting Adhesive Systems
Image credit:
All-Spec Industries