Specialty Tapes Information
Specialty tapes have application-specific designs that enhance particular capabilities of the adhesive tape. This can include abrasion and chemical resistance, the adhesion properties, or any other features not commonly available in general varieties of adhesive tape. These tapes may lack usefulness outside of their intended function, and may n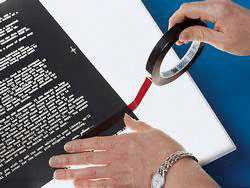 ot resemble the footprint expected of rolled tape.
'Specialty tape' is not standard industrial tape lexicon, but incorporates a wide variety of tapes that are not covered for one reason or another in IHS Engineering360's already extensive catalogue of tape selection guides.
Due to the large variety of specific tape designs, it is impractical to cover the operation of specialty tapes. Unless otherwise noted, the function and manufacture of the tape falls in-line with that of typical adhesive tapes.
Types of Specialty Tapes
The ambiguous definition of specialty tapes and the considerable number of tapes that could fall into this definition renders making an unabridged list of specialty tapes an impossibility. Nevertheless, leading varieties of specialty tapes are listed below.
| | | |
| --- | --- | --- |
| Type | Function | Image |
| Anti-slip tape | Anti-slip tape provides grip and friction to slick surfaces, specifically floors. Composition is of a high-strength adhesive with a rough polymer surface. Tapes are commonly colored to draw attention, and are rated for traffic: from barefoot to vehicular. | Image credit: 3M |
| Die-cut tape | Die-cut tape rolls provide tape segments with exact geometric dimensions to cover specific parts. These can be custom manufactured with specific adhesives and liners that are determined by the workpiece composition and the tape's intention. | Video credit: 3M via Youtube / CC BY-SA 4.0 |
| Edge reinforcing tape | Edge reinforcing tape is a polyester film, acrylic adhesive tape meant to protect the edges of paper, cardboard, and fiberboard products from deterioration. These tapes are typically transparent, and are durable yet thin. | Image credit: 3M |
| Fire tape | Fire tapes are resistant to burning when exposed to direct flame. These tapes are used to seal the joints and angles of firewalls in structures, and are rated by the number of hours the tape exhibits flame resistance. These tapes have a paper carrier with fiberglass reinforcement, and a permanent silicon adhesive. | Video credit: EZ Taping System / CC BY-SA 4.0 |
| Flashing tape | Flashing tapes use acrylic or rubber adhesives to seal windows, doors, and other exterior interruptions. These tapes have good UV, temperature, and moisture resistance due to their polyethylene laminate or film. | Image credit: DuPont |
| Glow tape | A polyester, photoluminescent film serves as the backing for this tape meant to highlight environmental aspects in darkness. The tape uses an acrylic adhesive, and requires ambient light to achieve its radiance. | Image credit: Glowfast |
| Hazard/barricade tape | Hazard tapes and barricade tapes have colorful and highly visible carriers. These tapes are meant for safety marking and hazard identification. These tapes may elect to use no adhesive and require tying or wrapping to maintain position. Otherwise, a rubber-based adhesive is most common, due to its solvent and abrasion resistance, and aggressive tack. | Image credit: 3M |
| ID tape | Identification tapes are used to differentiate between pipelines, tools, and instruments. Manufacturers offer similar products with different colors, patterns, text graphics, or label fields. These tapes use paper carriers, but use a wide variety of adhesives depending upon the application environment. | Image credit: Campbell International |
| Lithographic tape | Lithographic tape is a colored cellulose film that is optically transparent but photographically impervious. It uses a rubber-based adhesive to mask lithographic printers, plate makers, gravure, and flexo converters. | Image credit: Directa |
| Photographic tape | A black-colored rubber adhesive with a crepe paper backing results in a tape for camera applications such as masking negatives, repairing bellows, and sealing film canisters. This should not be confused with film splicing tape, a tape used to connect film negatives that uses a polyester backing. | Image credit: 3M |
| Riveter's tape | Riveter's tape consists of a polyethylene or polyester film—sometimes with an additional rubber layer—that has an acrylic adhesive applied only to the edges of one side of the tape. A clear, latitudinal, adhesive-free center ensures users can locate rivet heads: the ultimate enterprise of riveter's tape. It is common in aircraft and train assembly. | Image credit: 3M |
| Soundproof tape | Soundproofing tape utilizes a closed-cell foam carrier to isolate studs and joists. It is effective at reducing drywall-to-frame sound and vibration transmission. Adhesives are commonly acrylic or rubber-based, and adding a foil film to the carrier makes the tape a vapor barrier as well. | Image credit: Buy.com |
| Surveyor's tape (flagging) | Surveyor's tape is a type of non-adhesive flagging that allows survey crews to keep track of positions and information, as well as communicate amongst work crews. Brightly-colored for visibility, this tape is durable and weatherproof, and a wide variety of designs are available. | Image credit: A&E Orienteering |
| Ventilation tape | A non-woven, synthetic fiber backing and an acrylic adhesive allows exceptional air and gas penetration with a high burst strength, while also providing a solid barrier. | Image credit: 3M |
| Vibration dampening tape | Vibration dampening tapes most commonly have a carrier consisting of ultra-high-molecular-weight polyethylene--a thermosplastic with the highest impact strength currently available. The UHMW-PE (rated in mils) reduces vibration and noise associated with the joints of dynamic loads, and may convert some vibration to negligible heat by the use of an additional foil film. A polymer or acrylic adhesive is most commonly utilized, but colors and dimensions vary considerably. | Image credit: 3M |
Specialty Tape Specifications
Tape Dimensions
For tapes, there are two important geometrical aspects to consider: width and thickness. Length is unimportant because this is determined by the user at the point of application.
Width is the measurement across predetermined edges of the tape. Tapes can be cut by the customer to smaller widths.

Thickness is the distance between the two, flattened surfaces of the tape (carrier and adhesive). It is usually expressed in mils or thousandths of an inch, and is measured under pressure with a gauge.
Tape Features
Tensile strength is the maximum load the tape can withstand.
Peel strength is the amount of force needed to separate two bonded surfaces. This is commonly rated in ounces per square inch to stainless steel. This is separate from the peel strength for the tape liner, which is considerably less.
ESD control functions are useful in circuitry applications, and have conductive, friction reducing, or ionizing characteristics.
Temperature resistance is the amount of heat the tape can be subjected to without compromising the tape's performance.
Day rating is the estimate of time a tape can be temporarily bonded to surfaces without leaving a residue or damaging the substrate. This is most prominent in masking tapes
Abrasion resistance is the level of scratch resistance and ruggedness of the tape.
Transparent products allow the transmission of light. A tape is rated as transparent if 10-point type can be read easily when the tape is applied directly over it.
Once applied, products become permanently bonded to the substrate.
Weather resistant products are suitable for outdoor use and resistant to ultraviolet (UV) light, cold, heat, water or other weather conditions.
Tape Standards
Anti-slip tapes have military requirements set forth by MIL-PRF-24667.
Quality fire barrier tapes have joint characteristics advised by ASTM C474 and ASTM C475, and have fire tests conducted under the parameters of ASTM E119. Additionally, fire tapes may undergo construction flammability testing by government agencies.
Weather flashing tapes often conform to AAMA 711, Voluntary Specification for Self-Adhering Flashing Used for Installation of Exterior Wall Fenestration Products. Due to its novelty, many photoluminescent tapes do not adhere to the criteria set by ASTM E2072-10, which specifies the use of glow-in-the-dark safety markings.
Barricade tape manufacturers may elect to observe ANSI Z535.5, and government agencies may further delineate the quality of industrial hazard identification. British Standard 1710 most accurately regulates the usage of identification tape to convey pipeline information.
Soundproofing adhesive tapes should obey HH 2240, GMW16875, or Navistar's TMS 6817.
British Standard 12036 was formulated for the manufacture and use of tapes propagating tape breathability and penetration, while testing the resistance of the tape carrier can be attributed to TAPPI T 460.
SAE AMS3807 is a prominent standard in regards to the effectiveness of vibration dampening tape.
Resources
3M — Safety Walk General Purpose Tapes
E-Z Taping System — Drywall Tape
Tape Brothers — Glow Safety Tape
Campbell International Specialist Tapes — All Weather Pipe Tape
wiseGEEK — What is Surveyor's Tape?