Taps Information
Description
Taps are used to cut female threads on the inside of holes, a process called tapping. Similar in appearance to a screw, taps have threads that are used to cut into the material being tapped as the tap is turned. After a hole has been drilled with a tap drill, it is ready for tapping.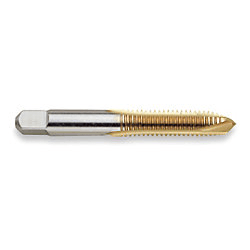 Taps usually have 2 or 4 Longitudinal grooves, referred to as flutes, that run through the threads and create the cutting edges on the thread profile. Flutes also allow for passage of chips and cutting lubricant. Flutes can be straight, angular or spiral. The threaded end of the tap has a taper or chamfer to help guide it and introduce the threads to the material as it enters the hole.
The non-threaded end of a tap consists of a shank that ends in a square, and is used for holding the tap by a tap wrench or machine collet. A tap wrench is a two-handled wrench that is either fixed or adjustable. Adjustable wrenches may be used with various size taps.
Taps are manufactured of hardened carbon steel or high speed steel and can break easily if unnecessary force is applied. Taps are designed and manufactured to meet most industry specifications.
Types
There are three types of hand taps:
Rougher- At the end of a rougher tap, the thread starts gradually when the tap is turned into the hole.

Plug tap (intermediate)- An intermediate tap is tapered back from the edges. It has about three or four threads and is used after the taper tap has been used to cut the thread as far as possible.

Bottoming tap (finisher)- The finisher tap has threads for its entire length and is used to finish the work prepared by the other two taps.
Specifications

Diameter and Depth
Tap threads have various diameters and depths. A tap drill size may be derived from the following formula: D = T – 2d, where D is the diameter of the tap drill size, T is diameter of the tap or bolt to be used, and d is the depth of thread.
Application
Taps are necessary for repairing threads in stripped holes or bolts. All modern equipment has nuts and bolts, and cannot be made without taps.
Standards
ASME B94.9 - TAPS: GROUND THREAD WITH CUT THREAD APPENDIX (INCH AND METRIC SIZES)
ATIS 0600029 - STANDARD FOR IRREVERSIBLE COMPRESSION LUGS, INLINE SPLICES, AND TAPS
BS 949-1 - SCREWING TAPS - PART 1: SPECIFICATION OF GENERAL DIMENSIONS
BS 949-2 - SCREWING TAPS - PART 2. SPECIFICATION FOR UNIFIED GROUND THREAD TAPS: MANUFACTURING TOLERANCES
BS 949-3 - SCREWING TAPS - PART 3: SPECIFICATION FOR PIPE THREAD TAPS
References
Image Credits: