HILCOSEP™ Coalescer Separator
Featured Product from Hilliard Corporation (The)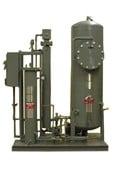 Compactly designed to operate continuously and efficiently, HILCOSEP™ extends turbine oil life, reduces maintenance and increases bearing life. The HILCOSEP™ removes moisture and particulate contamination from Turbine Lube Oil.
The Hilcosep was designed to remove moisture and particulate contamination from steam and gas turbine lube oils. Self-sufficient stand-alone models with reservoir capacity ranging from 2,000 gallons to 12,000+ gallons and portable models as well as custom designs are available.
Benefits
Extends turbine oil life
Reduces maintenance
Increases bearing life
Easy operation
Economically priced
Protects system's components from corrosion
Features:
Compact design
ASME Code vessel design
Highly efficient pre-filter
Clean and dirty sampling ports
Basket strainer protects pump
Differential pressure switch and gauge
Sight glass for visual examination
Automatic float and water discharge valve for continuous operation
CSA (Canadian Standards Assoc.) approval available
Swing bolt cover design allows for easy element changeout
HILCOSEP™ uses a B6=200 pleated polyester cartridge with a 99.5% efficiency rating to remove particulates. Both free and emulsified water are reduced to less than 25 PPM and total water content is lowered to less than 150 PPM.
Click here for additional product information.