Application Note:A-Series Field Generating Systems
Featured Product from AR RF/Microwave Instrumentation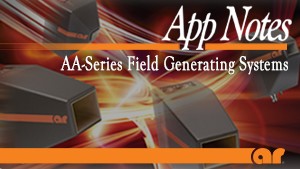 New Application Note:
Why Pay for Unnecessary Power to Generate Required Field Strengths?
AR RF/Microwave's brand new AA-series field-generating systems are your ideal source for radiated immunity testing from 18 – 40 GHz. The AA18G26 and the AA26G40 are capable of producing fields of up to 50 V/m in either the 18 – 26.5 GHz or 26.5 – 40 GHz, respectively, in an affordable, solid-state design.