ISOPLATEN® & PLATEN TECHNOLOGIES
Featured Product from Acrolab Ltd.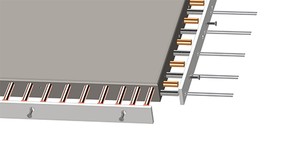 Acrolab's ISOPLATENS® deliver high levels of thermal stability to many kinds of applications that involve heated or cooled steel or aluminum plates. ISOPLATENS® can be designed for electric, oil, water, or steam heating/cooling. These technologically advanced platens utilize an engineered bi-level array of ISOBAR® heat pipe super-thermal conductors to redistribute energy uniformly throughout the entire platen. In some cases temperature uniformity can achieve as little as +/-1°F.
ISOBAR® HEAT PIPES
Isobars are utilized in a matrix pattern which gives the client the ability to achieve ultimate temperature uniformity on the Isoplaten surface.
BASIC PLATEN DESIGN TYPES
Material Types: A36, 4140 Steel are typical along with 6061 type Aluminum. Other steel and material types can be utilized depending upon application requirements.
HEAT SOURCE TYPES
ELECTRIC: utilizing Ccartridge Heaters, Strip Heaters or Split Heaters.
FLUID: Oil, Steam or Water (steam).
COOLING SOURCE TYPES
FLUID: Oil, Water or Cryogenic.
SENSOR TYPES
Typically Type J/K thermocouples or RTDs.
Integrated safety thermal cut off.
CONTROL
Can be designed with single or multiple heating and/or cooling zones as required.