Free Standing Fiberglass Enclosures
Product Announcement from Allied Moulded Products, Inc.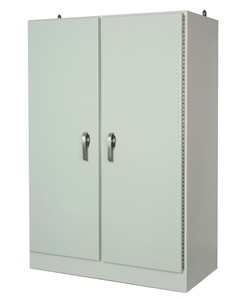 Free Standing Sizes:

Single Door
72" x 25" x 25"

Double Door
72" x 49" x 25"

Empire Series Features and Benefits:
- Fiberglass reinforced polyester construction for corrosion resistance and durability
- Continuous stainless steel hinge
- Flexible, self-gripping gasket compresses over flange for tight seal
- Freestanding units have 3-point latching handles which meet NEMA Type 4X requirements
- Optional painted carbon steel back panels are fully interchangeable with other specified enclosures
- Bonded fiberglass strut standard for additional mounting options

Suitable Applications:
- Electrical junctions
- Terminal wiring
- Electrical and electronic controls, instruments, components
- Housing pushbuttons, switches or other devices
- Other industrial control equipment
Fiberglass-The Superior Enclosure Material
Allied Moulded fiberglass enclosures are fabricated from our own proprietary formulation. This material provides superior performance and protective properties in a wide variety of environments. Please make reference to our performance comparison chart of enclosure materials below.
(click to download pdf copy of Sept/Oct 08 Equipment Protection Article)
Beyond Meeting Standards to Exceeding Expectations
Of course, Allied Moulded fiberglass enclosures are designed and regularly tested to meet stringent UL® and CSA® specifications, but we don't stop there. Our full line of corrosion-resistant, maintenance-free fiberglass enclosures is designed to provide optimum protection in the harshest environments, from water treatment facilities and irrigation systems to oil refineries and chemical processing plants.
Outperforming the Alternatives
Fiberglass reinforced polyester (FRP) offers significant benefits over metal enclosures such as carbon and stainless steel.
Allied Moulded enclosures also outperform other non-metallic alternatives in areas such as:

Chemical resistance
Protection against degradation due to UV exposure
Resistance to extreme temperatures
Flame retardant properties

Compare them and you'll discover that fiberglass reinforced polyester enclosures are:

Lighter and easier to handle
Strong enough to hold up under extreme conditions
Equal to stainless steel in corrosion and chemical resistance, and far better than carbon steel
Non-conductive--an electrical insulator rather than electrical conductor
Much easier to punch, drill or saw
Less expensive to ship
Take the time to compare the cost, quality and performance of our fiberglass reinforced polyester products and you'll see why we say Allied Moulded has the superior enclosure solutions.
View the Performance Comparison of Enclosure Materials including Fiberglass, Stainless Steel, Carbon Steel, PVC and Polycarbonate. Click here for technical data sheet
You can now view a virtual copy of our complete catalog, download a PDF version, or order a printed version free of charge.
What's New at Allied Moulded Products, Inc.
Browse by Enclosure Series
Browse By Enclosure Size
---