Cosel: DIN - Rail Mount Power Supplies
Featured Product from ArKco Sales, Inc.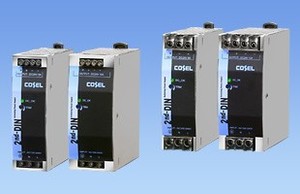 KL Series:
For DIN (35mm) rail products
Rated Output:
Input:

Voltage (V): AC85-264 1 ø
Frequency (Hz): 50/60 Hz (47-63)
Efficiency (%) ACIN230V:

120W → 88.0typ
240W → 90.0typ

Output:

Rated Voltage: 24V or 48V

Structure:

Case Size (W x H x D):

120W → 38 x 124 x 117mm (1.5 x 4.88 x 4.61in.)
240W → 50 x 124 x 117mm (1.97 x 4.88 x 4.61in.)

Weight:

120W → 580g max
240W → 750g max

Wide Operating Ambient Temperature Range:

-20°C to 70°C (Output derating is required)
Convection cooling
Suitable for enclosed space like control panels.

Choice of two interfaces:
Recommended EMI Filter:
Safety Agency Approvals:

UL60950-1
EN60950-1
C-UL (CSA60950-1)
UL508
Message from President & Chief Executive Officer Masato Tanikawa:
Since its foundation in 1969, COSEL has continued to work hard to ensure that its customers are always pleased with its products and services.
We prioritize technical development and are proud of our reputation as a founding member of today's dedicated power supply manufacturing industry, which has come about as a result of our unique R&D activities, as well as being a leader within the power electronics world. We are grateful to all those in various industries that have supported our growth in so many ways.
Nowadays, COSEL is moving into a new stage of its history. Based on our Management Philosophy of "Living up to our reputation in society by a quality-first approach," we are working even harder in our aim to create new value and develop new technology in order to manufacture products and services that will be loved by our customers all over the world.
We believe in the unlimited ability of people and aim to be a company where each of our employees can accurately judge the situation in which he/she finds him/herself and continue to take up the challenges presented.
I look foward to working with you in the future.