Industry First - Edge Computing Enclosures
Featured Product from Charles Industries, LLC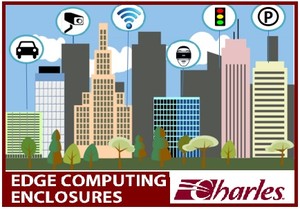 ADLINK Technology and Charles Industries, Ltd. (Charles) have joined together to demonstrate the industry's first complete micro-edge low latency Artificial Intelligence/Machine Learning/Deep Learning (AI/ML/DL) solution that can be co-located on LTE small cell poles or with emerging 5G radios.
The new solution is a compact low profile pole or wall mountable unit based on an integration of ADLINK's latest AI Edge Server MECS-7210 and Charles' SC102 Micro Edge Enclosure. Combining the rugged designs from the two industry-leading companies, this advanced solution is ideally suited for outdoor telecom use cases and well positioned to be deployed globally enabling carriers and communities to provide a wide range of new and advanced services, including autonomous vehicles/pods, virtual and augmented reality applications, vision analytics with additional AI/ML/DL applications.
Charles' SC102 Micro-Edge Enclosure has been custom-designed for the MECS-7210, using advanced thermal modeling to ensure reliable, high-end AI and compute equipment performance in harsh outdoor operating environments. To be able to handle the extreme temperature ranges and rugged attributes of telecom edge technologies, the SC102 Micro-Edge Enclosures complies with the stringent Bellcore GR-487 specifications for an outdoor ambient environment of -40ºC to +55ºC. The enclosed solution integrates system cooling and power by incorporating an 1880W heat exchanger and 250W heater, and providing power feed options for either AC or DC depending on site availability. In addition, the enclosure is sealed against environmental elements such as rain, wind, ice, and sun and equipped with alarms for temperature and door intrusion. The MEC-7210 server and SC102 enclosure are available as an integrated unit as well as separately.